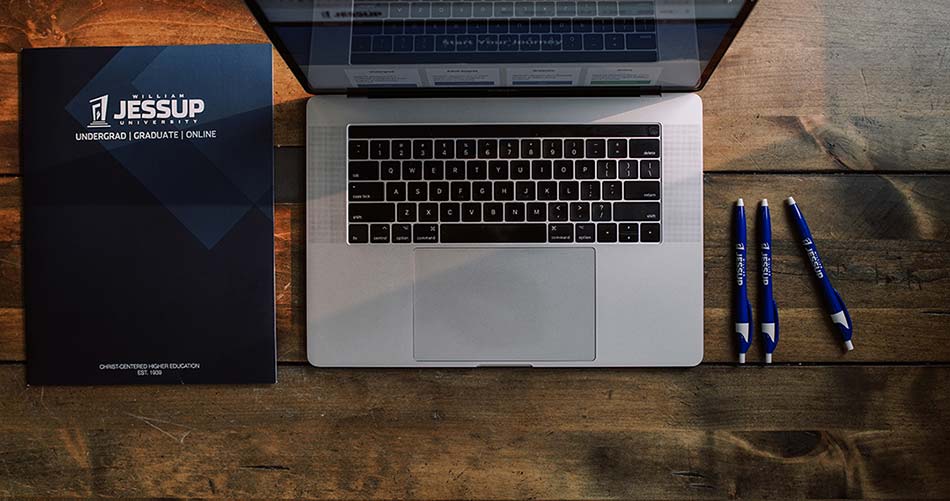 6 Reasons You Should Get Your Degree Online
Did you know Jessup offers online programs and degrees? These are the same accredited programs you'd receive in a traditional classroom but without the physical classroom! While some online programs only offer a limited number of degree options, we offer nine undergraduate and graduate degrees as well as several certificates. And we're adding to this list all the time!
The idea of getting an entire degree online may sound intimidating, complicated, and confusing. But, it's really much easier than you think. Whether you're trying to complete a degree you started years ago, a recent high school graduate, working adult, single parent, or member of the armed services, check out some of the benefits and advantages of getting an online education at Jessup.
Flexible: This is the most obvious benefit of online education. You can keep your current job while taking classes, attend classes from virtually anywhere, and complete your coursework on your schedule. You'll get the same award winning Jessup education online as you would in a classroom.
Affordable: Jessup offers affordable tuition with a generous credit transfer policy. We also offer various federal and state financial aid options and discounts for members of the armed services.
Shorter classes: Online courses at Jessup are only seven weeks as opposed to 14 weeks for on-campus courses. This means it takes less time to get your degree. We also offer six start dates for all our programs so you can begin when it's most convenient for you.
Faith-based: All our online programs are taught within a faith-based community. Our students are encouraged to critically think about how Christians engage with the world.
Access to Resources: To assist in your studies, Jessup's online students have access to tutoring sessions, the Writing Resource Center, and the campus library.
Classroom and Professor Interaction: Jessup's award-winning professors are available to answer your questions and help you with difficult assignments. Chat forums and live online discussions with classmates also help you gather ideas and information.
In addition to the benefits listed above, there are other advantages worth considering. As an online student, you can work and take exams in an environment best suited for your learning style. You'll also save money on gas and car maintenance because you won't be driving to and from campus. Additionally, you'll have 24/7 access to videos, course materials, and podcasts.
Learn at your own pace, develop self-discipline, and network with peers across the nation and the world! Serve your community in a meaningful career by studying online at Jessup. For more information about our online programs and degrees, visit https://online.jessup.edu/