Framing all of life within the story of God's redemptive work in Jesus Christ
The Gospel narrative, the grand, overarching story of Scripture, can be framed as a six-act story. Each act of the story builds upon each other and lays out God's redemptive plan for the world. Knowing the Gospel narrative helps us better understand our place in this grand story.
Six Acts of the Gospel Worldview
Please click the boxes below to learn more about each act that impacts/supports our Gospel Worldview.
Our Philosophy of Faith Integration
At Jessup, we believe that faith integration is the natural and intentional assimilation of Christian beliefs and practices into the learning process across academic disciplines. We affirm that God is the source of all truth and has revealed truth both generally in the natural world and specifically in Scripture (Ps. 19) and the person of Jesus.
Integration can occur in multiple dimensions of the learning process: the curriculum, the classroom, course design, and/or directed experiences, and involves the personal faith of both the professor and the students. A comprehensive faith integration philosophy takes both content and technique into account. The Gospel worldview provides a redemptive framework and common language for the content of faith here at Jessup, while a variety of integrative techniques are encouraged and modeled.
Robust and intentional faith integration in the learning process is vital to the fulfillment of the University's mission to develop transformational leaders who display excellence in professional skill development grounded on strong Christian character and complements the greater campus-wide spiritual formation initiatives.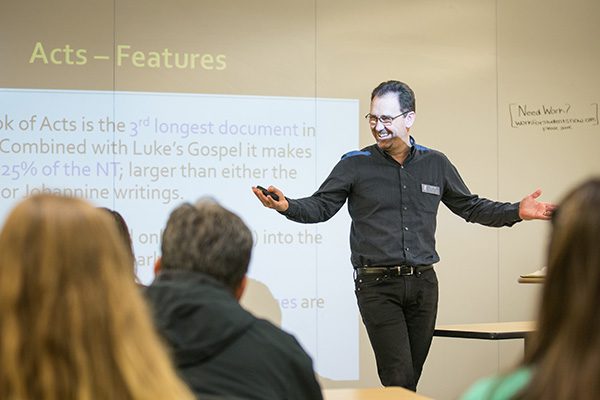 Resources for Faculty
Faith Integration Training sessions are offered for new and existing faculty at the beginning of each semester. These training sessions review the Gospel Worldview framework and empower faculty to more creatively integrate faith into their courses.
Faith Chats gather faculty together a couple of times each semester to learn and inspire each other to ever deepen their understanding and practice of faith integration.
Personalized Coaching allows faculty to set down with a faculty mentor and brainstorm creative ways to integrate faith in all facets of the learning process.
Assessment tools and other resources are provided to the faculty to help them better evaluate and develop faith integration.
Contact us for more information at ifl@jessup.edu or feel free to reach out to any member of the committee to find out how they integrate faith in their discipline.
Our Mission
Jessup educates transformational leaders for the glory of God