Rodney Tabares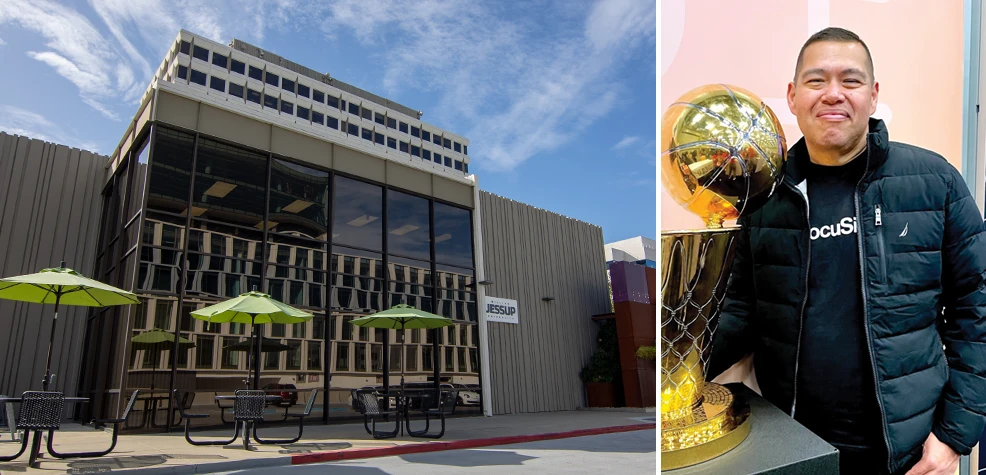 God created each of us in His image, as unique individuals. These differences are designed to make us better together. From a business standpoint, diversity is paramount for any organization to achieve growth, innovation and success. Jessup alumnus Rodney Tabares knows firsthand how important building effective teams can be in his role as director of diversity talent engagement and enablement at DocuSign®, the global standard for electronic signature.
In 2014, Tabares earned his bachelor's degree in counseling psychology at Jessup's San Jose campus. After that, he proceeded to build an impressive resume in talent acquisition representing companies supporting education, and later Silicon Valley powerhouses including Facebook, and LinkedIn. But what brought him to Jessup started decades earlier when he heard a sermon from former president, Bryce Jessup. Tabares knew he wanted to pursue Christian higher education and when the time came, the flexibility of Jessup's program stood out because it was geared toward working professionals.
A significant take away from his education at Jessup came from one of his instructors. "Everything she did, from her lesson plans to her email, was very intentional and had purpose. She stressed the importance of having an impact in what we do and it really stuck with me," Tabares recalled. "As a diversity director, I've heard her voice along the way. I have the opportunity to shape what the DEI industry looks like and what our partnerships look like, so I want to make sure everything I do has meaning. That translates to thinking through how these decisions impact everyone."
Tabares also takes to heart the power of Scripture. Specifically, Philippians 4:13. "I firmly believe God gives each of us a special gift and it's up to us to use it according to His will. That only happens when we submit to Him and let Him guide us. This verse helps me keep aligned with His greater purpose and has been something I can lean into during good times and bad."
His day begins by listening to devotions while exercising. Tabares finds it gets him focused, helping him prepare mentally. He refers to his routine as a temperature gauge. "When I hear those morning testimonies, I'm set to 70 degrees and better prepared for my day," he said.
In his role at work, Tabares enjoys the versatility each day brings. "I have an opportunity to not just build and scale but implement different processes to help people in their careers. For me, that's especially important because I help the most overlooked and the most underrepresented."
Shaping the way DocuSign® thinks about performance goals, campaigns, diversity and how it impacts not just the company, but the global industry, allows his team to support inclusive talent as well as develop diverse pipeline sourcing and outreach. "Diversity, Equity and Inclusion (DEI) work is challenging because the onus is on us. I don't shy away from the pressure because I'm very competitive. That's where I circle back to Philippians 4:13, knowing that I can do all things through Christ who strengthens me," he said. "Whether those I connect with work for DocuSign® or not, it's important to me their experience helps make them a better person as a colleague, potential manager, or in the recruiting process."
According to Indeed, DEI positions increased by 53.65% in 2020. With rapid growth comes misconceptions and DEI isn't immune. "Diversity encompasses more than just skin color," Tabares said. "It includes so much more. It includes where a person lives, their gender, religion, age, disability, appearance, or even having an ethnic-sounding last name."
Unfortunately, the technology arena is not immune to these biases. "In tech specifically, there is no reason the industry should be 4-6% black, 6-7% Latino and 27% women," Tabares said. "I know a lot of very capable women and people of color who are not hired by tech companies because of these exterior factors."
Utilizing data, Tabares is actively combating these biases. He was part of developing and executing a diversity study among 85 Fortune 500 companies. The study revealed bias came into play in a variety of areas, particularly recruiting.
"From my perspective, data gives the most honest viewpoint because it isn't skewed by bias," he said. When he's having conversations with vice president's, directors, or hiring managers and building for diversity strategies, initiatives, partnerships or training, Tabares employs the scientific approach. This allows him to utilize data to build better training, enhance partnerships or engage in crucial conversations.
As he works to shift the diversity narrative, Tabares also encourages companies and hiring teams to avoid discriminatory language and scrutinize how job descriptions are written. "During the interview process, we need to hone in on the candidate's skill set, not exterior factors because we know if a person has the skill set, they can learn to develop more skills specific to their role," he said. "Our skills are what matters most. It's just that simple."