In Search of a Better Life – Isabella Carreiro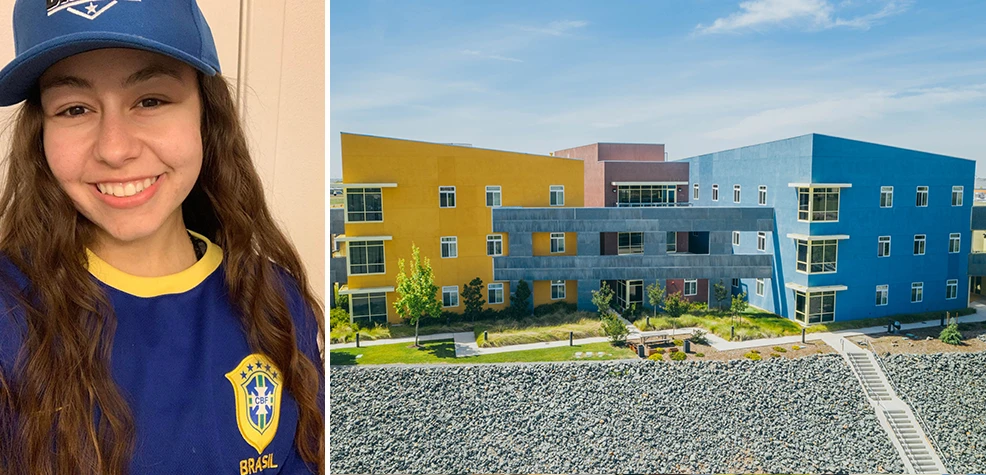 ISABELLA CARREIRO
Many Jessup students overcome significant obstacles in their pursuit of Christian higher education and Isabella Carreiro is no exception. Originally from Sao Paulo, Brazil, Carreiro didn't speak English when she arrived in San Ramon, California at the age of 12.
"I didn't want to move, I was happy and had lots of friends, enjoyed my dance class and was learning to play the flute. Meanwhile, my mom's lifelong dream was to break the cycle of generational poverty and provide a better life for her kids away from what we knew, growing up just outside the favelas," she said. "My mom convinced me to pray about moving, so I did. Later when we went to church, I heard a song about leaving your house and going to a better place. That's when I realized what God wanted for all our lives."
What she didn't realize were the challenges that accompanied moving to another country. In school she was placed with her brother which meant skipping a grade. "It was very difficult for me because I was a fifth grader, in a seventh-grade classroom and couldn't understand the language," she said. "At home, we had no access to a computer. My mom bought textbooks (that we still have) and tried to teach us, but it was difficult. I was bullied and miserable," she reflected.
Making ends meet financially was also hard. "I started working six months after I got here because my mom was carrying so much on her shoulders and needed help." She found her niche working at kids princess/salon birthday parties where she assisted her mom with kids' hair and makeup. Coupled with her schooling, that's where she learned English and expanded her love for working with kids. She eventually started babysitting for a Brazilian family and continued to do so for several years. "I would take two or three buses to get to my jobs. Working two jobs was a lot while trying to keep up with my studies and chores."
After years of hard work, she and her siblings were the first in her family to graduate high school. Neither of her parents or grandparents had done so. After graduation, she took a job as an au pair and attended San Francisco Community College where she found it difficult to share her faith. Two years later, it was time to transfer to a four-year school and she received a postcard from Jessup. "Honestly, I didn't even know there were Christian universities out there! Immediately, I scheduled a tour and when I arrived, my heart was filled with joy! I felt like Jessup was too good to be true. The more I thought and dreamed about it, the more I saw myself here and scholarships helped make it possible!"
In 2019, she sensed God calling her to Jessup where she became a psychology major because of her desire to help kids. While at Jessup, she also served as a student ambassador, sharing her collegiate experience with prospective students. On campus, she has formed life-long friendships and connected with professors who care about who she is. "I learned I can rely on my professors and they are very much full of grace. For me, this is a place where I truly feel at home and don't have to pretend I'm someone I'm not," she said. "Jessup taught me to always have God at the center of my life and to be who He created me to be.