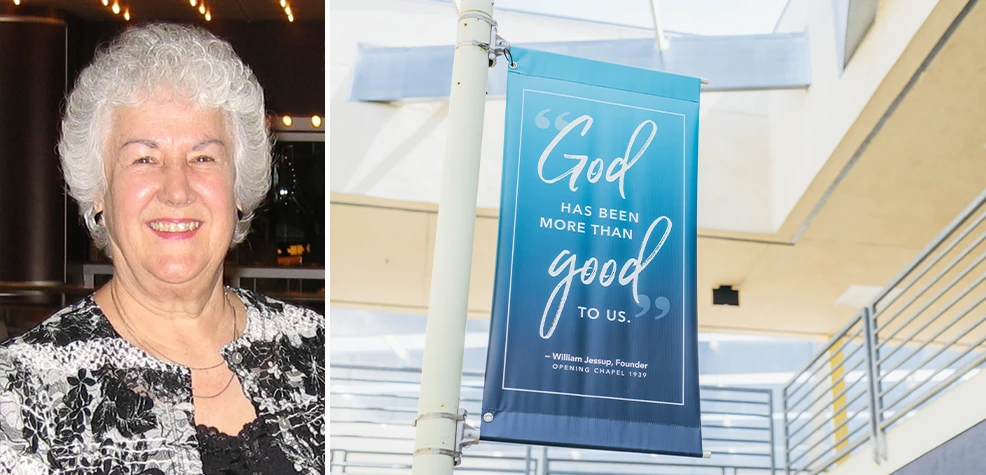 In Memoriam: Remembering Jo Jessup
IN MEMORIAM: REMEMBERING JO JESSUP
Shirley-Jo Hulburt was born December 15, 1933 in Los Angeles. Growing up in Southern California, she later met and married Bryce Jessup while attending San Jose Bible College.
At 70 years old, she selflessly left her roots in San Jose accompanying her husband as they stepped out in faith to relocate the University to Rocklin in 2004. A familiar and well-loved person on campus, Jo led spiritual formation groups and regularly attended activities and events. She had a sharp sense of humor, persistently shared the goodness of God and believed wholeheartedly in the unfailing mission of the University. A strong woman of prayer, she could be found nearly every Saturday morning alongside Bryce at the campus prayer chapel that shares their name or taking prayer walks around the growing campus.
Along with being Bryce's biggest cheerleader, Jo shined on her own. She loved music, leading the choir at Central Christian Church in San Jose and at SJBC. Her love of music began at a young age when her mother, Vera, an accomplished pianist and organist, taught her to play. Later, Jo would follow in her mother's footsteps, also teaching piano to her grandkids.
Jo was active with Bayside Adventure Church serving others in their 55 Alive group. She was a pillar of encouragement to family and friends, steadfastly demonstrating the joy of the Lord was her strength.
Bryce and Jo shared 64 years of marriage together when the Lord called Bryce home while fishing in Yosemite in 2020. Jo suffered a series of strokes in 2017 and lacked an understanding of Bryce's passing.
Jo passed peacefully from this earth on August 24, 2022 with her kids by her side. The family believes that when she took her last breath, she entered into the gates of heaven and into the arms of Jesus. She was a loving wife, mother, grandmother and great-grandmother to 31 souls.
Bryce and Jo often enjoyed singing along to a favorite Bill Gaither song entitled, "Look for me." The chorus reads:
Look for me, for I will be there too
I realize, when you arrive, there'll be so much to view
After you've been there 10,000 years, a million, maybe two
Look for me, for I will be there too
It brings the Jessup family great joy and peace to know Bryce and Jo have once again reunited their voices as they worship around the throne.