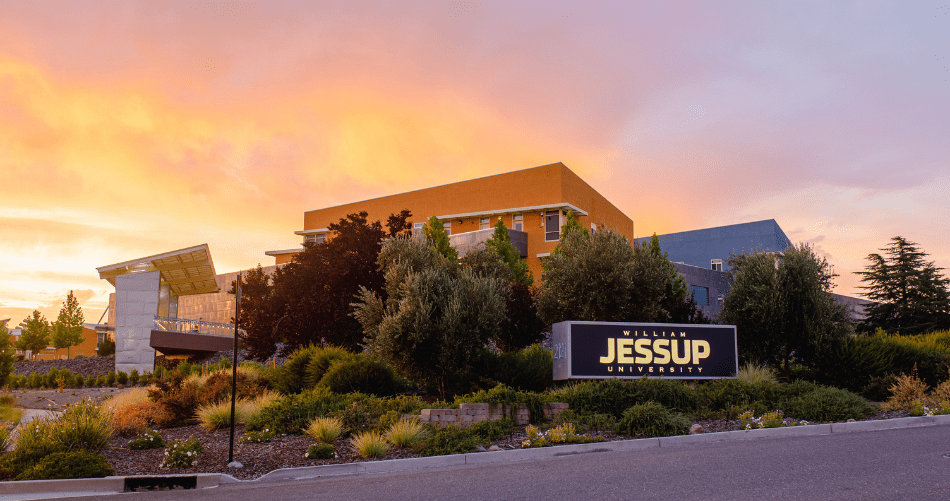 Jessup Commuter Life: Programs & Resources
Nobody wants to feel like they're on the outside looking in. Sometimes, Jessup's amazing commuter students need the reminder that no matter where they live, they're still essential to our community! We want to support each commuter with vital resources so they feel connected and committed to our university family.
Who Are Jessup Commuters?
A "commuter student" refers to any student who does not live in university-owned housing on Jessup's Rocklin campus. "Unlike many full-time residential students," said one source, "commuter students may have competing responsibilities outside the academic classroom, such as family, home, and work interests." At Jessup, 51% of students live off campus. These students come from a diverse range of backgrounds and experiences, including transfer, first-generation, non-traditional, veterans, parents, working, etc. They also enroll in a wide variety of our majors and programs.
Sarah DeRise is a Digital Communication and Design (now Digital Communication, Art & Design) alum who graduated from Jessup in Spring 2022. She spent three years as a commuter student, traveling weekly to the Rocklin, California campus. "Overall, I loved being a Jessup commuter," said Sarah. "It made the most sense for my personal situation and lifestyle. I had a longer commute, nearly an hour on average. However, this gave me lots of 'me time' in my car. I was able to build a good community with fellow commuters and on-campus students. And I was involved in campus events and other activities while still keeping up with studies through time management." 
Commuter students also face unique challenges. Besides higher gas bills and more "me time" on the road, living far from campus makes it more difficult to participate in spontaneous activities, outings, and last-minute study groups. Instead of simply walking from a dorm-wing to the library or Student Union, commuters must carefully plan if they're going to attend an event or spend time with friends. This requires extra communication and scheduling on their part. Yet it's still possible to build a strong and vibrant college community with just a little more intentionality.
"Commuters are just as much a part of the Jessup family as any on-campus student," said Sarah. "Whenever I explained my situation to professors and students alike, they were usually understanding and willing to work with me."
Programs and Resources
Jessup commuter students have access to all the same academic support and student services that are available to our entire student population. During holidays and special occasions, our staff likes to offer treats to commuters, like a free sack lunch on Sack Lunch Day. There are also spaces on campus dedicated to helping commuter students feel at home.
Commuters are just as much a part of the Jessup family as any on-campus student." —Sarah DeRise, Digital Communication & Design major
The Commuter Corner is in the Crawford Commons near the back by the stairs. This cozy corner is an equipped kitchen area space with a refrigerator for commuters to store their lunches along with free treats including coffee, tea, and gluten free options. Commuters can also make any suggestions for improvement by leaving suggestions in the suggestion jar. 
Jessup holds Commuter Breakfasts during Wednesday of finals week each semester in the Commuter Corner. Here, students have the opportunity to relax and enjoy a complimentary breakfast in between finals.
Commuter Connects take place monthly to help commuters develop a sense of community. The Community Life team puts on Commuter Connect events specifically for commuter students (be sure to follow along @jessuplife). These connection events often include games, movie nights, special receptions, and other fun off-campus events.
Of course, there's no limit to where commuters might enjoy spending time on campus. Jessup has many third places where you can come to study, rest, and connect with others. These places include the Library, Commons, Student Union, Prayer Chapel, Veterans Lounge, Shack, Crossroads Cafe, and many outdoor seating areas.
"Whenever I feel like I need a change of scenery, it's nice being able to hop on over to campus to study," said Kelly Barta, a current commuter and grad student earning her Master of Arts in Counseling Psychology.
Masha Vasilkova, a Visual and Fine Arts major (now Digital Communication, Art & Design) enjoys having her own space at home to return to at the end of a long day. But she loves the mindset that being on Jessup's Rocklin campus puts her in. "Being a commuter allows me to have a place for schoolwork outside of home," said Masha. "When I go on campus, I'm automatically motivated and ready to learn and do homework because that space is designated for education."
Still have questions? Check out the following list of frequently asked questions to learn more.
FAQ
How do I apply for commuter status?
Visit this page to follow application steps for becoming a commuter student.
Are there lockers to store my belongings?
Yes. Commuter students may begin submitting requests for locker reservations the first day of classes for the current semester. Email studentlife@jessup.edu or visit this page.
Are there refrigerators or microwaves I can use on campus?
The Commuter Corner is located in the Commons near the back, by the stairs, and is an equipped kitchen area with a refrigerator for commuters to store their lunches.
If I don't purchase a student meal plan as an off-campus student, are there other ways to grab a meal on campus?
How do I grab a meal on-campus?
All TRAD students, including Commuters are required to have meal plans. You can find meal plan information here. You can also buy healthy individual meals, snacks, and drinks from The Shack, next door to Crossroads Cafe. There are also select vending machines across campus in places like the Student Union. 
Where can I park on campus?
As long as you have an up-to-date Jessup parking pass, you can park in any unlabeled parking spots in the front or back lots. The parking garage is reserved for residential students.
Is there public transportation available?
Yes, here are some main public transportation systems: Placer County Public Transit, Roseville Transit, Amtrak Capitol Corridor, and Bike Trails & Corridors. Map your route and explore the city's trails and bike routes on the Interactive Community Map!
For more information, visit Student Life's Commuter Resources page.