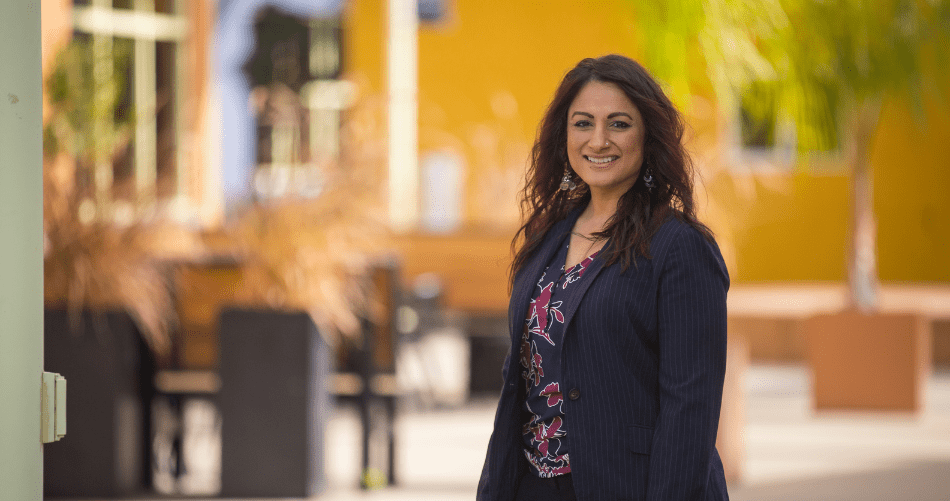 Christ-Centered Higher Education at Jessup University
For the last eight decades, Jessup University's mission has remained unchanged. We aim to educate transformational leaders through unapologetically Christ-centered higher education. During their time at Jessup, each student encounters an invitation to be personally transformed through their education, no matter which of our 60+ degree and certificate programs they enroll in. This leads the way for servant leadership—by enriching family, church, and community life and by serving with distinction and integrity in their chosen career.
This year, the University has three areas of focus: living in Christ, learning in community, and leading in culture. As Jessup students develop in these three areas, they not only experience personal transformation but actively participate in transforming their local and global communities for God's glory.
Living in Christ
Jessup's staff and faculty are committed to guiding students toward an authentic relationship with Jesus. Since we first opened our doors in 1939, this desire for spiritual formation motivates everything we say and do. As a place of Christ-centered higher education, Jessup leads students into a deeper relationship with Christ through the integration of faith and learning, framing all of life within the story of God's redemptive work in Jesus. This is true across all academic disciplines.
What does this look like? Throughout the semester, students have lots of opportunities to encounter God and His Spirit at work. They can attend chapel worship services, spiritual formation groups, or global outreach trips. They can seek mentorship during faculty office hours and swap stories with friends at Pause Coffee House in Rocklin.
"Jessup is where I learned you don't need to be a part of a church staff to influence people to follow Jesus," said Joshua Jackson, a 2021 business alumni.
Not all Jessup students have a Christian background, which means everyone is in a different stage of their faith life. This is true of most, if not all, Christian colleges. While some students are already highly involved in church, others may be opening a Bible for the first time. Nonetheless, our gospel-infused curriculum equips any student for transformational leadership. We come alongside them no matter where they are on their spiritual journey.
Learning in Community
Our University offers a close, welcoming community. In fact, many students point to this as the number one thing they experience during their time on campus. In a world where people often feel isolated and lonely, Jessup encourages its community to do life together. We do this by gathering in our award-winning cafe and coffee shop, worshiping together in weekly chapel services, and connecting in common areas. Additionally, campus-wide events and activities keep students in the mix all year. These include athletics games, academic lectures, Theatre productions, and other student-run activities.
"One of the joys that students report back to us is they get to meet students from other walks of life," said Phil Escamilla, Vice President of Academic Affairs.
Hebrews 10:24–15 says, "Let us consider one another in order to provoke love and good works." And what better place to do this than within the context of Christ-centered higher education! As Christ-followers, transformational leadership begins when we learn how to humbly grow and mature alongside each other. Of course, no community is perfect. But Jessup strives to extend a welcoming atmosphere of people ready to challenge and cheer each other on. It's not uncommon to build meaningful connections and friends that last a lifetime.
"Since I arrived, I have been surrounded by a community of support," said Bailey Cossentine, a former Jessup athlete. "They challenge me to be the best version of me that I can be."
Leading in Culture
Located among the fifth largest economy in the world, Jessup sits well-positioned to impact culture. Our Rocklin campus is only 18 miles from Sacramento, California's capitol. Conveniently, it's also 90 minutes from Silicon Valley, the center of innovation, technology, and venture capital.
Jessup works intentionally to connect with our regional economy. And many local industries rely on Jessup graduates for their employees, including schools, businesses, and mental health care. "Our students are equipped with leadership skills," said Christy Jewell, Director of Career and Life Planning. "They are leading in culture, in their communities, and in their workplace."
There are a lot of different reasons to attend college today. Career advancement, higher pay, and social networking rank among the highest reasons. However, many prospective students also look for a Christ-centered higher education where they can integrate their faith with academics. Finding the right school can be a challenge. Yet it's worth it for the sake of engaging in a lifelong pursuit of knowledge, character formation, and service.
"There's no success if somebody is just equipped in their mind," said Dr. John Jackson, President of Jessup. "The ultimate success is if spiritual transformation leads people to say, 'Where can I make a difference?'"
Start Your Journey with Jessup
Jessup is nationally-ranked with over 2,400 students enrolled in Traditional Undergraduate, Adult Degree Completion, Online, Graduate, and Certificate programs. We offer over 20 majors and approximately 60 programs in a broad cross-section of disciplines, including STEM, social and behavioral science, arts, and humanities. Our faculty and staff are committed to Christ-centered higher education that equips students for transformational leadership so they can become whole and flourishing individuals.
To apply or learn more about Jessup's academic offerings, please click here.