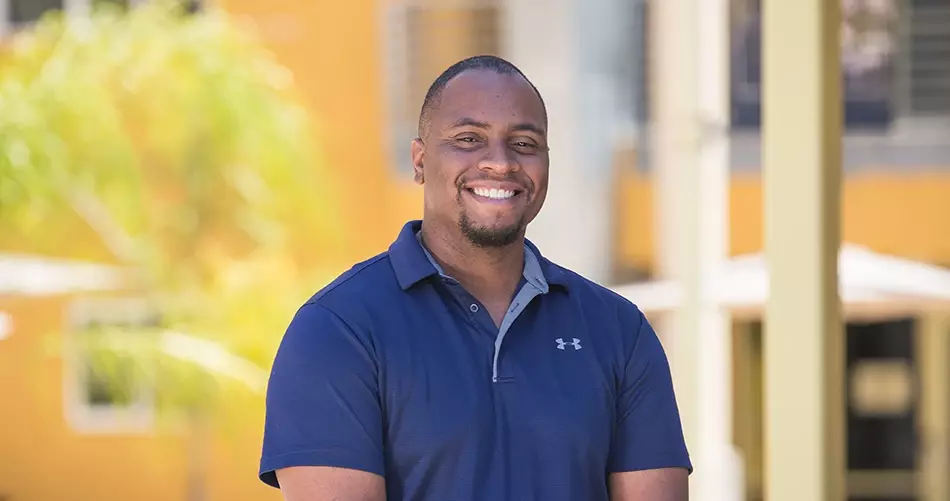 A Legacy of Support with Success Coach, Jason Walker
Jason Walker is an idealist who hopes to leave people in a better place than where he found them. As one of Jessup's student success coaches, he works primarily with traditional undergraduate (TRAD) students majoring in the natural and applied sciences. He also oversees those in our criminal justice, political science, and nursing programs.
At Jessup, success coaches come alongside students, guiding them as they pursue their educational and career goals. They serve different but complementary roles to career counselors or academic advisors and partner with these individuals as opportunities arise. Typically, a success coach's relationship with a student begins at the start of their education and continues throughout, deepening each semester.
Jason is no stranger to the many questions students have to face on the educational journey toward a sustainable career. Weighing the value of different majors in the face of an unknown future and economy, he chose to major in Spanish with a concentration in education. Jason planned to be a school teacher. Although teaching wasn't ultimately the path, this insightful decision served him well in later professions, offering a greater level of job security.
For Jason, the desire to help others stems from his own personal wiring, as well as from his parents, career mentors, youth ministers, and teachers who supported and took an interest in him while he was a young adult.
"I've always been a people person," said Jason, who is passionate about helping individuals develop their lives and careers. Mentoring others through a variety of different roles over the years is his way to pay it forward. Currently, he also serves on the board for the Dry Creek Joint Elementary School District.
With a professional background in the financial industry, law enforcement, and higher education, Jason has seen just about everything—murder, abuse, and suicide along with diligence, faithfulness, and wisdom. Human nature is complex, and people are capable of both good and evil. However, there's one common thread evident to Jason throughout each setting: God's restorative presence in the lives of His people.
"Working in the Auburn jail exposed me to some of the deeper, darker elements of humanity," said Jason. "Even in those spaces, God was there. I've seen lots of people turn over their lives to Christ."
Jason sees God's image displayed in each person he encounters. As seen in the apostle Paul's conversion and ministry, even the worst offender is a beloved child of God. Working with diverse populations helps Jason recognize this and dignify each person's humanity. Now part of Jessup's Christ-centered community, he appreciates the likeminded relationships and opportunities to share even more authentically about his Christian beliefs. He's especially humbled by the students themselves.
"All these preconceptions I've had about this generation are torn down," shared Jason, openly. "They are hard-working, kind-hearted, intelligent, thoughtful, and want a better future."
Students like these, along with the love and support of his own family, give Jason internal motivation for investing in others. Over the years, Jason's wife Amber helped him persevere through the toughest circumstances of his life. The two recognize God's presence in their marriage and the unique ways it empowers them to love each other well and pour into their two kids.
Ultimately, Jason believes humans are the most complex inventions in creation. And this speaks to a Designer, one who is holy, good, and trustworthy. His mission, no matter who or where he's serving, is to introduce people to the "owner's manual" for those complex inventions—that is to say, God's Word. As a Jessup success coach, he's excited to continue helping students discover how God equips them to make a difference in the world.
* * *
Building upon our mission to educate transformational leaders, Jessup has a robust team ready to mentor students toward their personal, academic, and career goals. Click here to learn more about success coaching at Jessup.