2022
ANNUAL DONOR
IMPACT REPORT
Because of you, Jessup students are living in Christ, learning in community and leading in culture. Thank you for becoming the catalyst for change our students need to influence culture, for the glory of God.
01. CAMPUS DEVELOPMENT & EXPANSION
Thanks to the generosity of our donors, Jessup facilities have undergone renovations designed to support student success and foster relationships throughout our unique campus community.
New Campus Developments
Academic Warehouse
Flexibility | Comfortability | Visibility
Renovating this highly utilized space is no small undertaking. A number of generous partners invested in the improvement to our Academic and Chapel Warehouse. Phase one of the project included higher quality seating as well as sound, lighting, paint, staging and media enhancements.
The modernized area creates a more flexible and enjoyable space while providing improved visuals for all. The updates feature cushioned, comfortable chairs for students and patrons alike as well as improvements in sound quality, aesthetics, and overall comfort.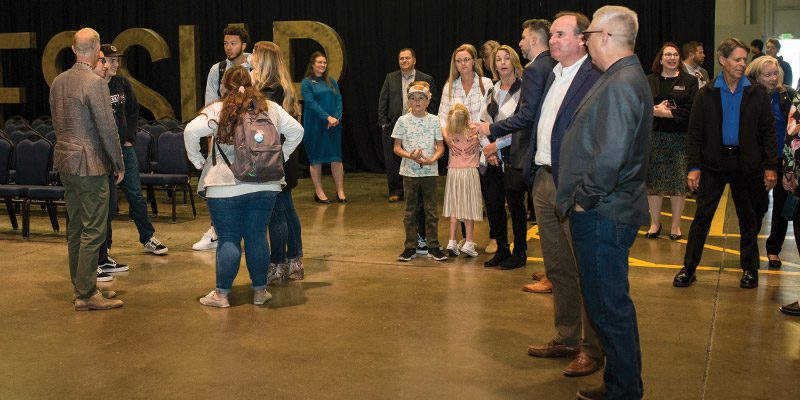 The Hugh and Hazel Darling Foundation Center
Create | Connect | Collaborate
The Hugh and Hazel Darling Foundation Center includes the Academic and Career Development Center, Veterans and ROTC services, International Students Office, spaces for learning services as well as a conference room, restrooms and storage/archive rooms.
While these spaces are used for general research and study, as well as encouraging and staging new types of learning encounters, they are also used collaboratively to create an environment where both scholarship and professional development occurs.
The goal of Jessup's new center is to provide a space for students, staff, faculty, alumni and community members to create, connect and collaborate. It allows for hands-on, minds-on learning that enables students across disciplines to create prototypes, tinker and innovate.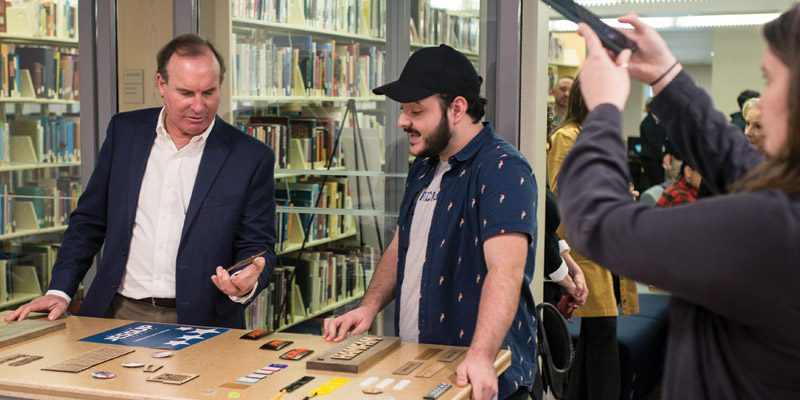 Student Union
Communities of Faith, Hope and Love
At Jessup, we foster communities of faith, hope, and love through intentional programs and Christ-centered living. Therefore, our learning environments are crucial to the success of our students.
Jessup's renovated Student Union serves to provide a community environment for formal and informal student activities and events. The space features a stage for large events, smaller meeting and study spaces, a lounge with a flat-screen TV, a gaming area with two ping pong and pool tables, and a student-staffed desk providing rental equipment and late-night food options. Our Student Union aims to be the most desirable space on campus for students to develop lifelong friendships and create forever memories.
Research shows that key relationships made with faculty and peers have the greatest impact on student experience, engagement and retention statistics. Your giving helps students succeed and thrive in environments intentionally designed to foster a sense of community.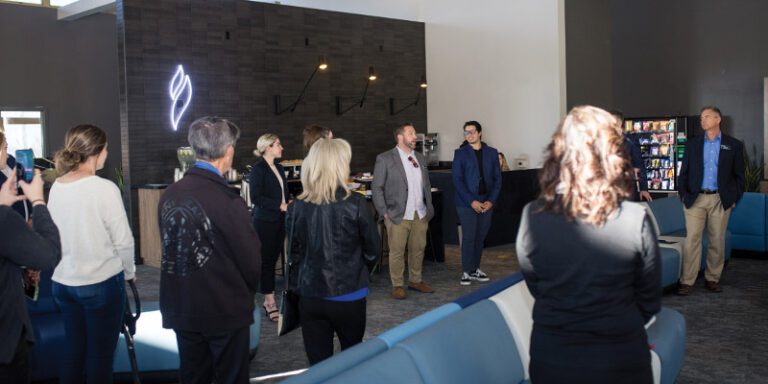 Aviation Simulator
Taking to the Skies
Jessup's FAA certified aviation program produces highly-skilled, industry-ready, principled professionals for the field of aviation. Students graduate with an in-depth knowledge of aviation operations, aerodynamics, laws, regulations, security, meteorology, and airline management issues and practices, both from a domestic and international perspective.
During the 2021-22 academic year, a generous gift enabled the purchase of a much needed FAA approved flight simulator that artificially simulates aircraft flight in various environments and conditions while helping students gain flight, instrument, and navigation skills.
Students maintain proficiency and increase their piloting skills as they accrue mandatory hours of flight education. The simulator augments actual flight time (which averages about $225 per hour) saving students upwards of $10,000 toward the FAA licenses they will earn.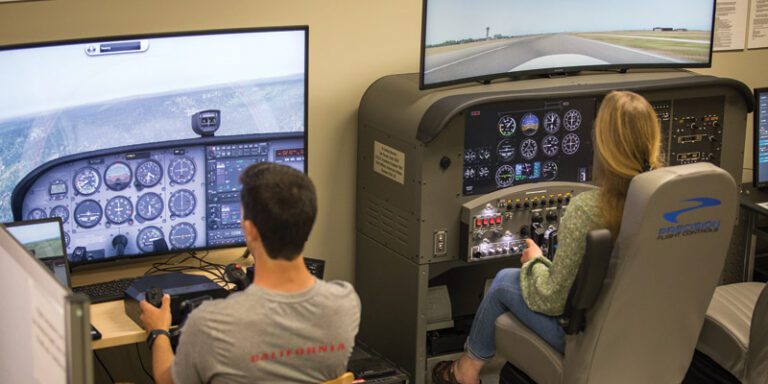 02. ACCESSIBLE CHRIST-CENTERED EXCELLENCE FOR ALL STUDENTS
Christ-centered higher education is made possible by Jessup Fund supporters who invest in scholarships, academic programs and spiritual formation. Your support directly impacts nearly 1,000 traditional undergraduate students and another 1,000 online and graduate students.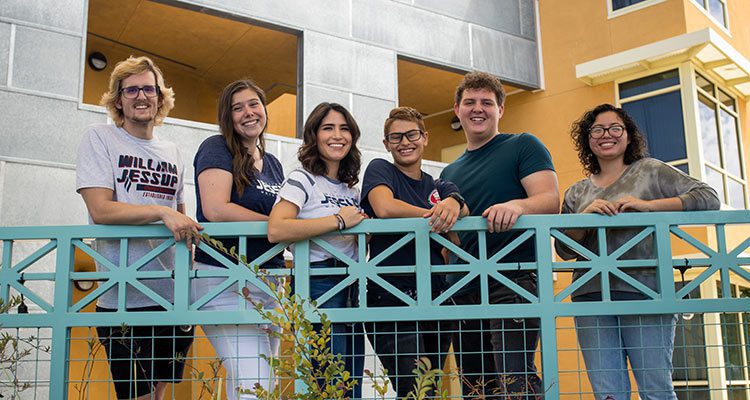 Student Accessibility
$14M provided in Jessup Fund scholarships and other donor-designated awards

$21K: The average scholarship package for traditional students

87% of ALL students are eligible for aid
Academic Excellence
32 undergraduate programs and 11 graduate programs offered (as of Spring 2022)

96% of graduates say they are prepared to further their education and/or enter the workforce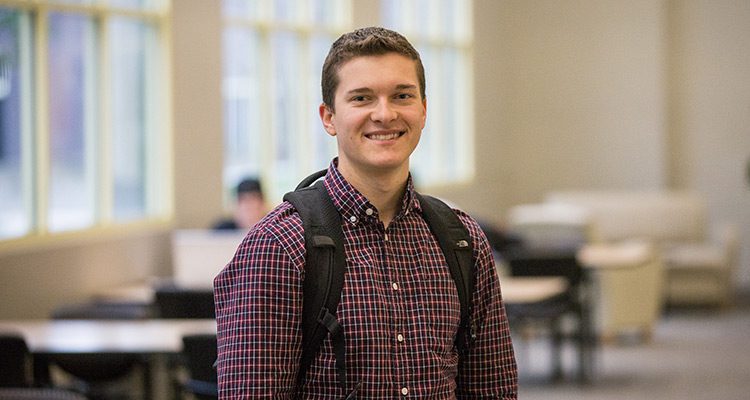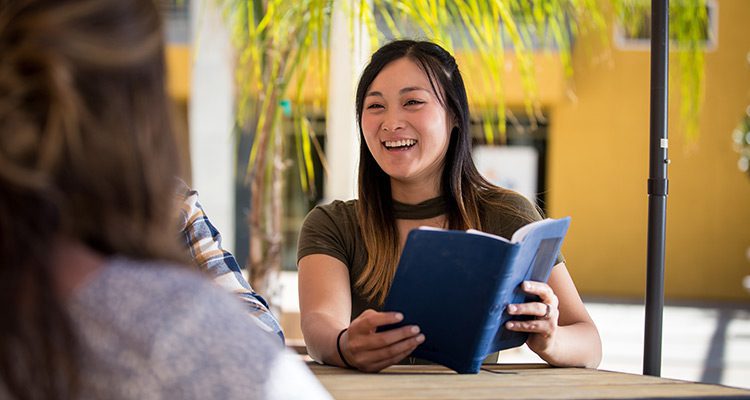 Spiritual Discipleship
1,050 students enrolled in School of Theology and Leadership courses

412 participated in Spiritual Formation Groups

84% of graduates say they either attend church regularly, volunteer or are involved in ministry
$14M in Institutional & Donor Scholarships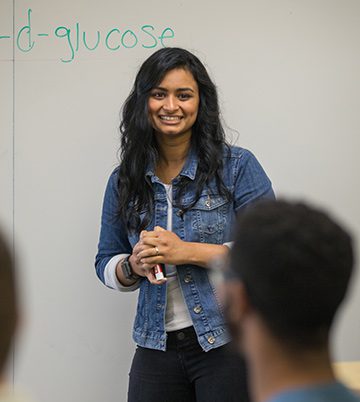 The Jessup Fund Academic Scholarship: $5.5M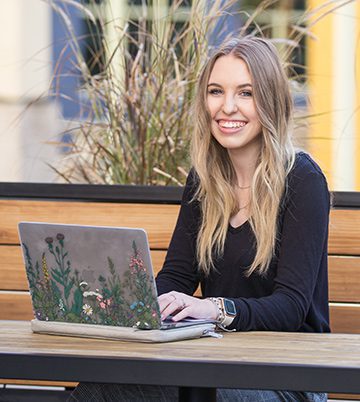 Jessup Fund Need-based Scholarships: $2.5M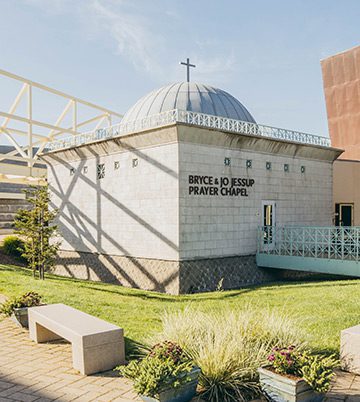 Church Partner Grant: $685K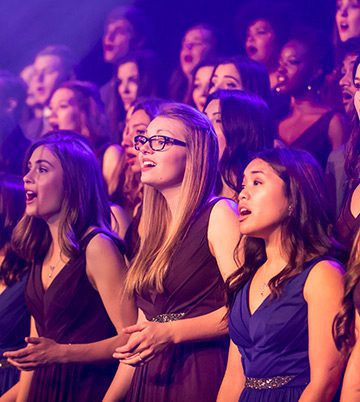 Student Athlete Scholarships: $4.3M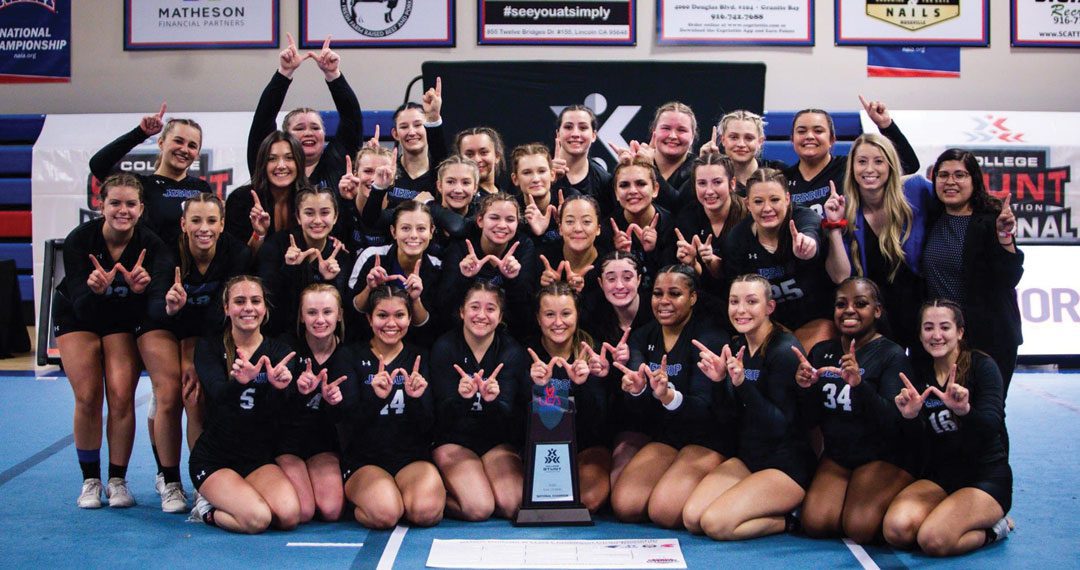 The Jessup Fund Academic Scholarship: $5.5M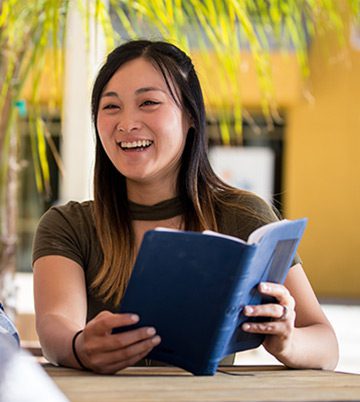 The Jessup Fund Academic Scholarship: $5.5M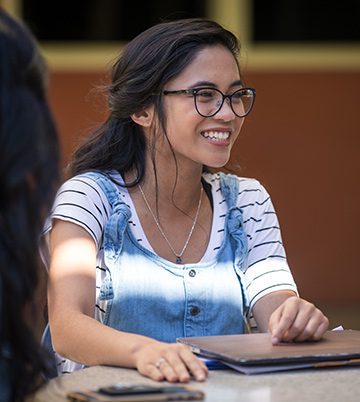 The Jessup Fund Academic Scholarship: $5.5M
In Partnership with the Church
Thanks to the generosity of our donors, Jessup facilities have undergone renovations designed to support student success and foster relationships throughout our unique campus community.
Welcome to Roenz Balangue,
New Associate Director of Church Relations
"I love the position I get to be in. So much of my job is figuring out how we can be a resource for the Church. The Church is Christ's bride. It's not about one specific church, it's about all of the churches."
Center for Church Health
"The Center for Church Health is designed to support, encourage, and shape hundreds of churches in Northern California as we provide important resources that have often been beyond reach for congregations…"
The Class of 2022
489 newly minted graduates commissioned to articulate the relevance and authority of Christ through their vocational posts, to the glory of God.
278 TRADITIONAL GRADUATES
AVERAGE TRADITIONAL BACHELOR'S DEGREE AGE: 24
AVERAGE MASTER'S DEGREE AGE: 36
30 LANGUAGES SPOKEN OTHER THAN ENGLISH
30 BIRTH COUNTRIES REPRESENTED
15 HOME STATE OUTSIDE CALIFORNIA
64% IMMEDIATELY EMPLOYED UPON GRADUATION
"I've learned what true community looks like. The relationships I've made have helped me understand what God's design is for my life. I'm not meant to walk through life on my own. As I'm about to graduate, I can trust that the friendships I've made will provide the love and support I'll need for my next adventure."
Together, Catalysts for Change
Supporters during our Give:24, online giving day, became the proactive catalysts for change for our students.
Thank you to approximately 436 donors who rallied together to raise nearly $164,000 on March 24. Your support created new scholarship opportunities for athletes, foster youth and students in need.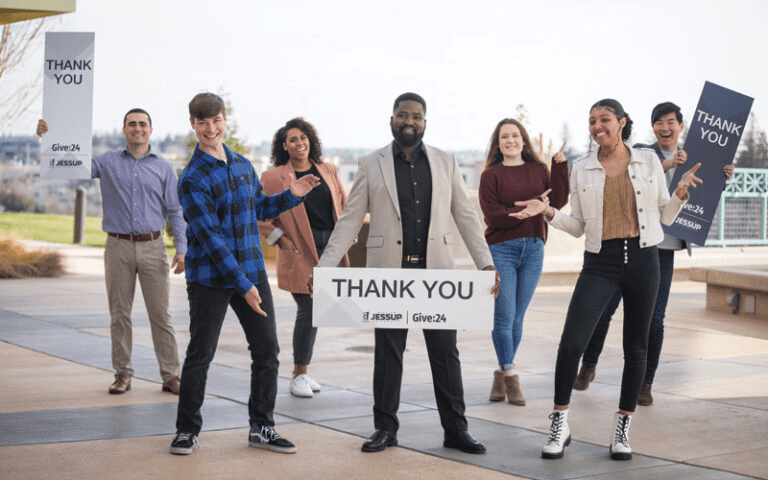 03. JESSUP ATHLETICS
Your support actively develops student athletes who model Christ on the field of play, in the classroom and in the community.

333 STUDENT ATHLETES

1 NATIONAL CHAMPIONSHIP (STUNT)

1 GSAC CHAMPIONSHIP

1 NAIA NATIONAL CHAMPIONSHIP APPEARANCES

13 GSAC CHAMPIONSHIP TOURNAMENT APPEARANCES

7 COMMUNITY SERVICE PROJECTS

44 SCHOLAR ATHLETES

AVERAGE STUDENT ATHLETE GPA: 3.03

13 GSAC PLAYERS OF THE MONTH OR WEEK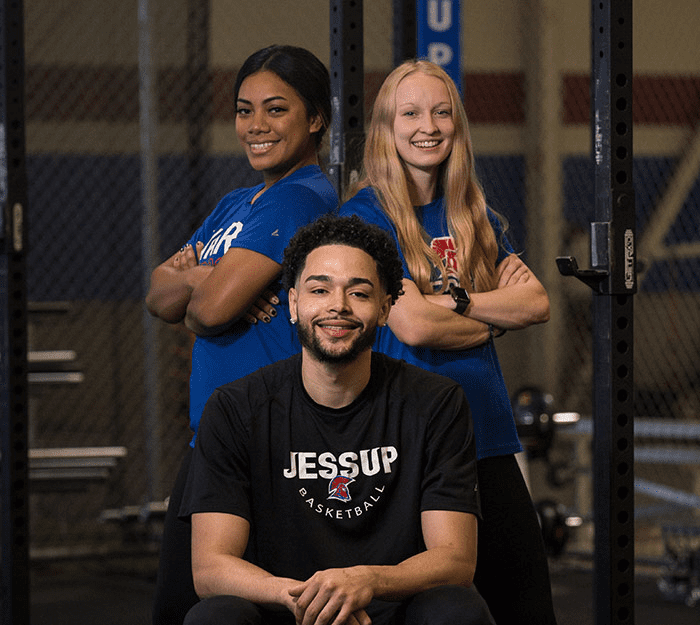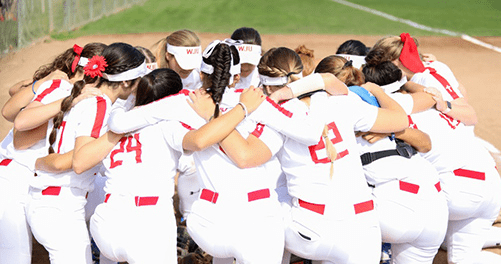 For the first time in softball program history, the Warriors became champions of the Golden State Athletic Conference. Jessup softball ended their season with a program-record proclaiming 39 victories.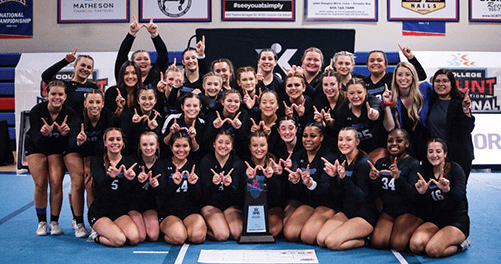 ---
Beyond the Field of Play
---
"Jessup's talented student-athletes are known for battling fiercely against their opponents, but when they aren't in the heat of competition, they gladly open their hearts to assist the local community."
04. VISUAL AND PERFORMING ARTS
Delivering immersive artistic experiences that cultivate God-given talent, for the glory of God.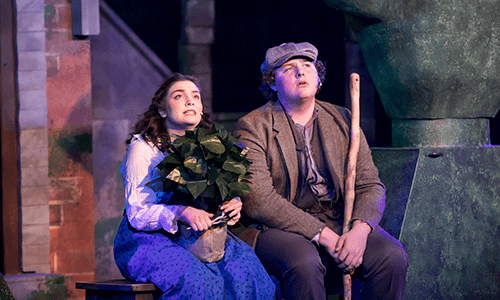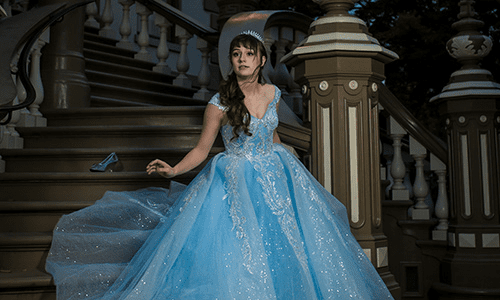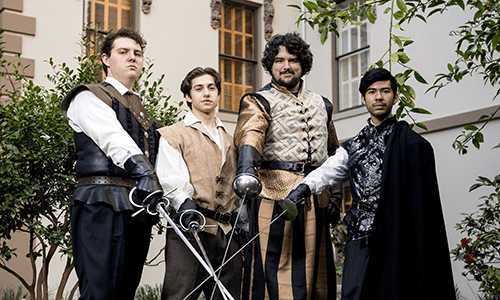 259 STUDENTS ENROLLED IN THE SCHOOL OF HUMANITIES AND ART

JESSUP MUSIC IS OFFERING NEW SPECIALIZATIONS: WORSHIP, COMMERCIAL MUSIC, MUSIC EDUCATION

JESSUP THEATRE'S PERFORMANCE OF RODGERS AND HAMMERSTEIN'S CINDERELLA WAS THE LARGEST SELLING PRODUCTION IN THE HISTORY OF OUR THEATER DEPARTMENT.

NEW RECORDING STUDIO AND DIGITAL COMMUNICATION AND DESIGN STUDIO UNDER CONSTRUCTION
Jaden Santini, B.A. in Music
"I wanted to come out of college with a strong spiritual foundation because I think it's harder to develop that after you graduate. Jessup equips us to defend our faith. If we can't do that, we get filled with things of this world, which can make life confusing."
05. SCHOOL OF EDUCATION
Your support is shaping future generations through our aspiring teachers.

"At William Jessup University we prepare teaching candidates to serve in diverse communities. Over the years we've made several connections with many international organizations. In fact, we have graduates teaching around the world."
– Nathan Herzog, Dean, School of Education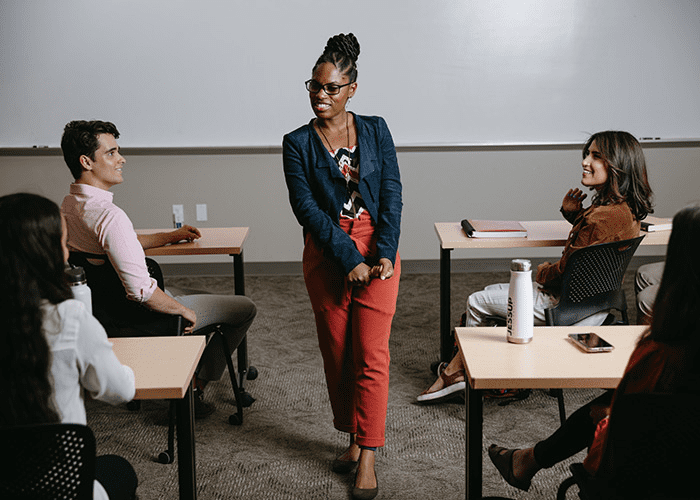 213 SCHOOL OF EDUCATION STUDENTS
1000+ ACTIVE CREDENTIALED TEACHERS
100% TEACHER EMPLOYMENT RATE
230 MAT DEGREES AWARDED LAST YEAR
DEAN NATHAN HERZOG RECOGNIZED BY GLOBAL FORUM ON EDUCATION AND LEARNING IN THE TOP 100 VISIONARIES IN EDUCATION. DR. HERZOG IS ALSO ON THE EXECUTIVE TEAM OF THE AICCU REPRESENTING ALL SMALL PRIVATE UNIVERSITIES.
Emilly Hambly, Fall Class of 2022
"The curriculum and methods used developed my authenticity to know who I am as a teacher instead of striving to attain teaching styles that may not be reflective of my personality."
06. NATURAL AND APPLIED SCIENCES
Your support makes it possible for the next generation to discover and reveal the glory of the Lord through scientific research for the betterment of humanity and our world.
Building a distinctively Christ-centered science program
262 Natural and Applied Sciences students

Aviation program received FAA approval and received funding for flight simulation training

Completed the State Board of Registered Nurses approval in June 2022 for a new Nursing program. Students begin enrolling in Fall of 2022 and Nursing courses commencing in Spring 2023.

Completed over 6,000 square feet of our new Nursing program Simulation (SIM) labs

Acquired the Altitude Research Center. Kinesiology students now utilize training equipment for research aimed at improving athletic performance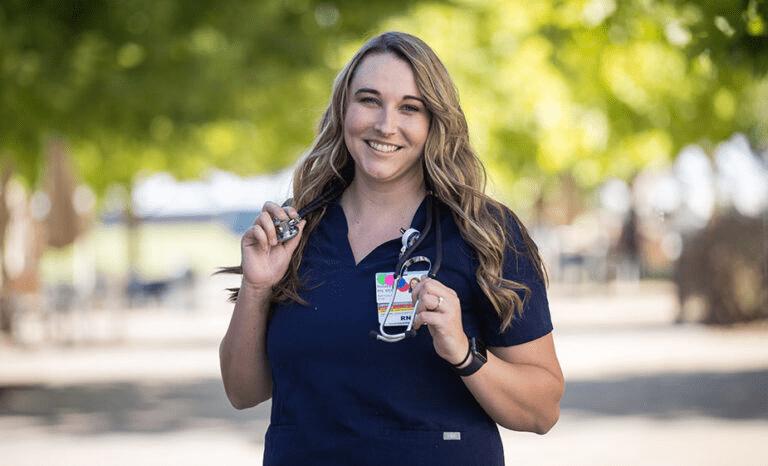 07. SCHOOL OF THEOLOGY AND LEADERSHIP
Your ministry of generosity develops transformational leaders that produce change and build lives through authenticity, inspiration, empathy and innovation.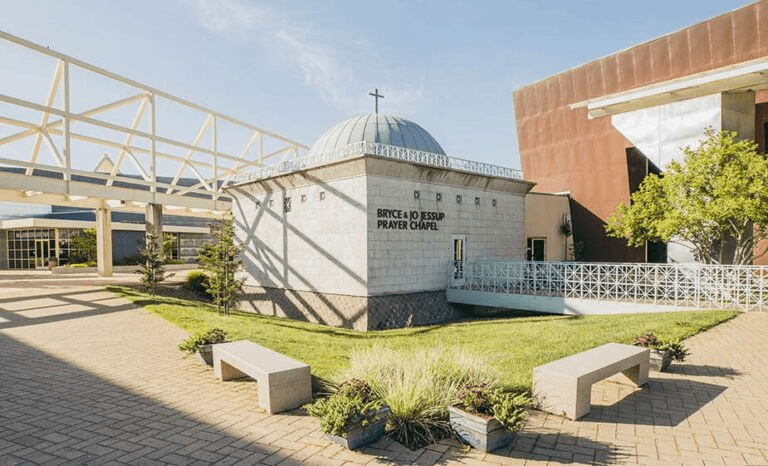 1,050 enrolled in School of Theology and Leadership courses

24 School of Theology and Leadership programs

256 School of Theology and Leadership majors

Casa Latina celebrated their first graduating class. Approximately 23 students received their certificate of completion.

JessupThink Podcast is nearing 100 episodes featuring faculty who have conducted research and those who have been published.

Full-time professor, Mark Moore, is chairing the Integration of Faith and Learning initiative in all classes. As the university grows, we continue to build and provide resources to help faculty integrate faith into all courses at Jessup.
Erika Figueira, Master of Arts in Leadership
"God has brought so many pieces full circle through Jessup. I've been able to help other students learn by sharing my experiences and I've learned so much personally, academically and spiritually during this process."
Around the World Now: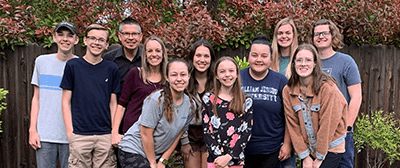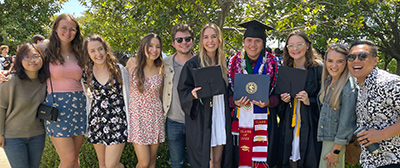 East Africa Mission Team
South Asia (India) May 27 – June 10

East Africa A (Kenya) June 4 – 20

East Africa B (Tanzania) June 15 – 29

Central America (Nicaragua) June 20 – July 2

Middle East (Jordan) June 20 – July 4
Did You Know?
Jessup's Advancement office spends just .74 cents per person on publications annually.

The Office of Church Relations is currently assisting 17 churches to find leadership candidates in their respective churches.

189 students received Hugs & Love From Home encouragement and over 200 custom Jessup Bibles were distributed with encouragement notes to new traditional students. Thanks to those who gave toward our Campaign of Encouragement appeal to make this happen.

The university has 236 full-time staff.
Preparing for the Future Together
Do you feel skeptical about the state of our culture and future? What about the world our children and young leaders are stepping into?
---
Acts 17:24, 26-27 says,
"The God who made the world and everything in it is the Lord of heaven and earth…From one man he made every nation of men, that they should inhabit the whole earth; and he determined the times set for them and the exact places where they should live. God did this so that men would seek him and perhaps reach out for him and find him…"
---
From this scripture we can dispel fear and be at peace that our sovereign King has perfectly positioned us for His glory.
For our children, He (in His inscrutable wisdom), has determined the "times" set before them.
Instead of allowing fear and worry to fill our hearts and minds of what may come of our children and culture, we take action. At Jessup, your prayers and support activate our mission to educate transformational leaders for Kingdom work in this world to shine His light all the more. Situated just 18 miles from the State Capitol, we set our eyes on Christ with a vision to redeem world culture through leadership that is authentic, inspirational, innovative and empathic.
We can look forward in hope knowing that God is raising up Christ-honoring leaders who will face the world boldly in grace and truth and push back the darkness surrounding us.