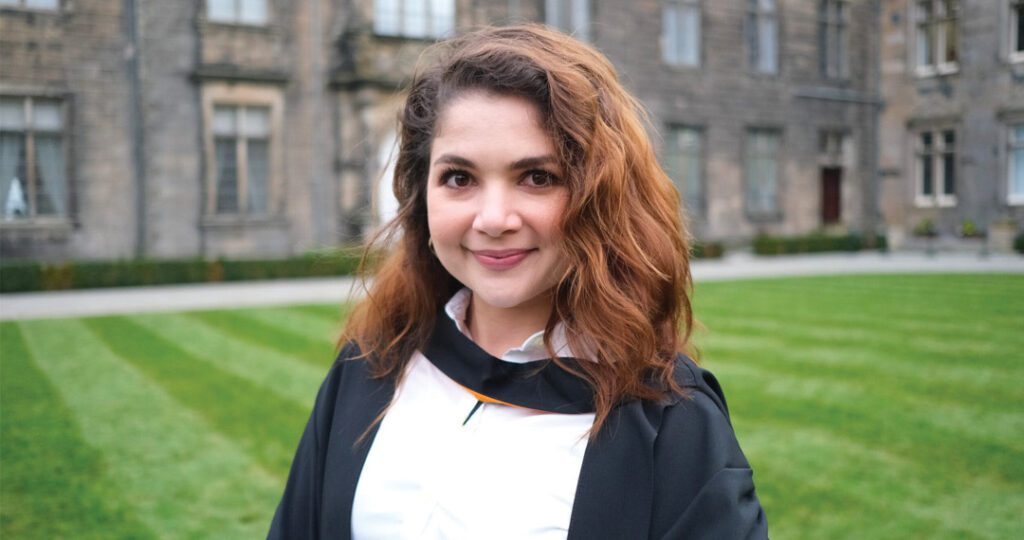 A Journey of Discovery with Kristin Ball
Kristin Ball is a Jessup alum working on her Ph.D. while living in Scotland and attending the University of Aberdeen. During her days at Jessup, she tutored Bible students in study skills and later taught New Testament after receiving her master's degree from the University of St Andrews. She is a woman characterized by wisdom and grace dedicated to following God's path for her life, even when that path takes a few unexpected turns. It's a pleasure to welcome Kristin to our Q&A discussion today.
First, tell us a little about your background.
Before landing at Jessup to finish my degree in Bible and Theology, I had quite the journey. I'd originally set out to be a vocal performance major in the hopes of pursuing opportunities in the music industry, along with pursuing a position as a worship leader. After a pretty severe family crisis, I was unable to go back to the university I had been attending which eventually made me realize that I did not want to complete my degree in vocal performance. Needless to say, I found myself floundering a bit. This floundering eventually opened the doors for God to lead me to live in India and teach English for a time. It was a beautifully rich and enriching experience, and my life is forever changed from having met and lived among the people of Chillakallu.
After returning home from India, I had a deep desire to go into a field that would be able to tangibly address the needs of people—at which point I decided that pursuing a nursing degree would be the next best step. After pursuing this for a time, and encountering some pretty severe personal health issues, I came to a point where I had to withdraw from my program. I was overwhelmed and so sad, once again, to not know what it was I was 'supposed to be doing' with my life. It was in this space that the Lord spoke to me about pursuing a degree in Bible and Theology at Jessup, and I've been on this journey of discovery with him ever since.
At what point did you decide you wanted to study overseas?
Since I'd lived overseas numerous times before Jessup (Germany, India, Scotland), I was pretty open to the idea. When it came to pursuing grad school, however, I had anticipated staying in California and putting some 'roots' down within the community since I was in a ministry leadership position at a local church. It wasn't until I learned that N.T. Wright was lecturing within Logos at St Andrews that I really felt the desire to pursue graduate studies outside of the United States.
Give us a little glimpse into your academic life at Aberdeen.
The program I pursued in St Andrews was in Analytic and Exegetical Theology, and what I'm doing now is vastly different. My time in St Andrews was immensely helpful in revealing what I'm passionate about and where my gifts are (and where they aren't which is just as important in the discovery process!). That said, I heard about Aberdeen from a friend who had also gone through the same program as me at St Andrews. At the time, she was studying Practical Theology at Aberdeen, and based on what she was describing to me, it sounded much more in line with where I saw myself flourishing. I began setting out exploring the place of, and need for, lament in the church. At the moment I'm investigating lament, trauma, and spiritual abuse (heavy stuff, I know).
How did Jessup prepare you for this season?
The relationships that were built and the professors who were intentional about investing in me have been integral to where I am now. Before Jessup, I wouldn't have believed anyone if they'd told me that I would be living in Scotland, pursuing a PhD now.
How has God met you in this process?
In some very practical ways. In fact, the more I journey with Him, the more I find I'm met with His kindness through very tangible, everyday needs. Whether that's finances, a call from a friend, a delightful cup of coffee, the provision of my new kitten… He really has provided my 'daily bread', so to speak. When it comes to the professional realm, I'm still in the process of discovering where I might end up. That said, I could see myself working in the Academy as well as the Church. I sense a calling to the Church that I'm still grappling with, but I suspect this may include helping communities lament and engage trauma in a way that brings wholeness and restoration.
What do you enjoy during your free time?
I love hiking (I know, every NorCal girl's answer), singing is still something I enjoy dabbling in, reading, listening to podcasts, cooking, baking, discovering new things about Aberdeen, people watching, and most recently learning what the life of a cat mom looks like.
For more information about Jessup's School of Theology & Leadership, visit their page here.