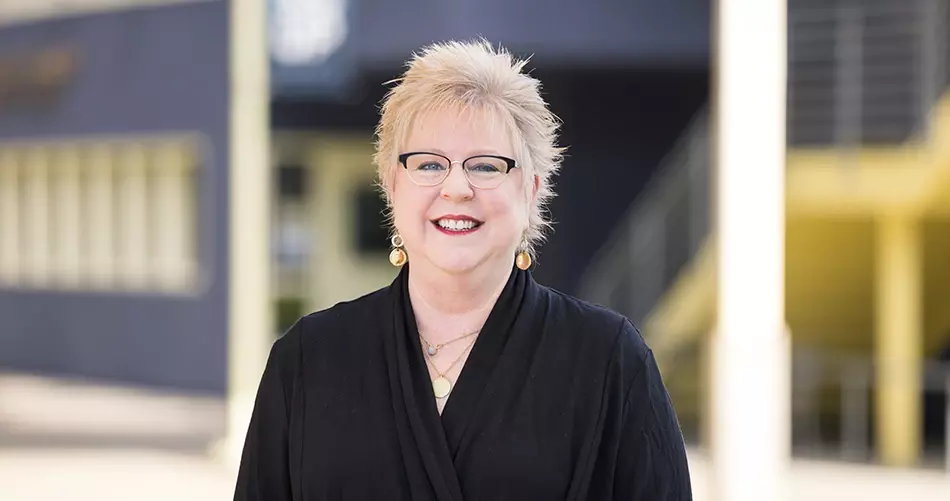 Shepherding Teams Toward Success
One of Linda Sommerville's many passions is encouraging and equipping people to discover God's calling and to live fully into that calling. Since joining Jessup in 2004 as an instructor for Adult Degree Completion, this is exactly what she has worked to accomplish. Her current role is Associate Vice President of Professional and Continuing Studies (PACE) and Site Director for our San Jose extension campus.
Faith-Inspired Learning
With a background in ministry, Linda brings her pastoral heart of care to the teams she leads, shepherding them toward success. She's an ordained pastor, along with her husband Phil, and serves part-time as a spiritual director, a practice where she connects with people as they deepen their relationship with God.
"I'm a pastor at heart," said Linda. "I bring that to everything I do—how I lead, how I teach. I'm constantly asking, 'What does this mean for your faith?' and 'How is this informed by Scripture?'"
She is also heavily involved with the University's Integration of Faith and Learning Committee, formed a few years ago. Although Jessup faculty are all passionate about Jesus, it isn't always obvious how to connect their Christian faith to their subject matter. For ministry-based programs, like Biblical Studies or Leadership, the connection is easier to make. But how do you infuse a business or chemistry degree with spiritual formation?
"A lot of faculty used to think the integration of faith meant they open their classroom with a prayer, maybe a little devotion," said Linda. "That's pastoral care, and that's important. But it's not faith integration. It needs to be woven into everything."
This is where the IFL Committee comes into play. Currently, two of Linda's staff members (Irene Matson, Faculty Mentor for the PACE Department, and Bo Cassell, Resource Specialist and former pastor) serve on the committee, among many others, where they coach faculty on how to integrate faith even more fully into the classroom—across academic disciplines.
"Our course designers provide a voice to help refine and shape it," said Linda. "We had to teach some things to consider while designing a course. Like 'What does this question you're asking about this subject matter reveal about one of the Six Acts of the Gospel Worldview? We want to get the students to think about it critically."
You may have heard us say that, at Jessup, faith and knowledge are not at odds. Thanks to our community of staff and faculty, like Linda, we're growing in our ability to shape people of influence through a robust, gospel-inspired curriculum.
Creative Problem-Solving
Linda is especially gifted in discernment. Wired as an "idea person," she is always thinking about new ways to serve our Online, Graduate, and Adult Degree Completion populations. However, just because an idea is good doesn't mean the timing is right. Things can move slowly in higher education. And a big part of Linda's role involves sizing up the organizational readiness for new ideas, trying to pay attention to the right timing and ways to present them.
On Friday, March 13, 2020, Linda turned in the final copy of her dissertation. This was the day schools shut down and sent people home. Although an event like this brought huge challenges for many online teams, Linda had already foreseen a need for the ADC program to begin moving online. Because of this, ADC was in excellent shape to make the full transition to Zoom.
"In summer 2019, we had a whole ramp-up," said Linda. "We brought faculty and students along. We had trainings and information nights. We did fun celebrations about new things coming. And we converted 30% of majors in the ADC program to Zoom. Less than a year later, when everything shut down, IT was ready to go."
Empowering & Equipping Life Change
At Jessup, Linda has high buy-in from the staff she leads because of the time she invests pastoring and shepherding her teams. Even though she may not be in the classroom all the time, she gets to pour into these students from behind the scenes and watch how it affects their lives. She gets to invest in peers, including deans and other associate VPs. Like others in higher education, she has had to learn ways to care for staff and students remotely (like leading spiritual retreats on Zoom!).
"One of my favorite things about working at Jessup is seeing life change," said Linda. "Seeing people being empowered, equipped, seeing their lives propelled into new directions. It's motivating."
Outside of work, Linda is also a wife and mother. She is very involved in her local church, Pleasant Grove Community in West Roseville, where her husband serves as the lead pastor. They are excited to watch the neighborhood grow and continue participating in generational outreach.
Learn more about Jessup's majors and programs by visiting our website.