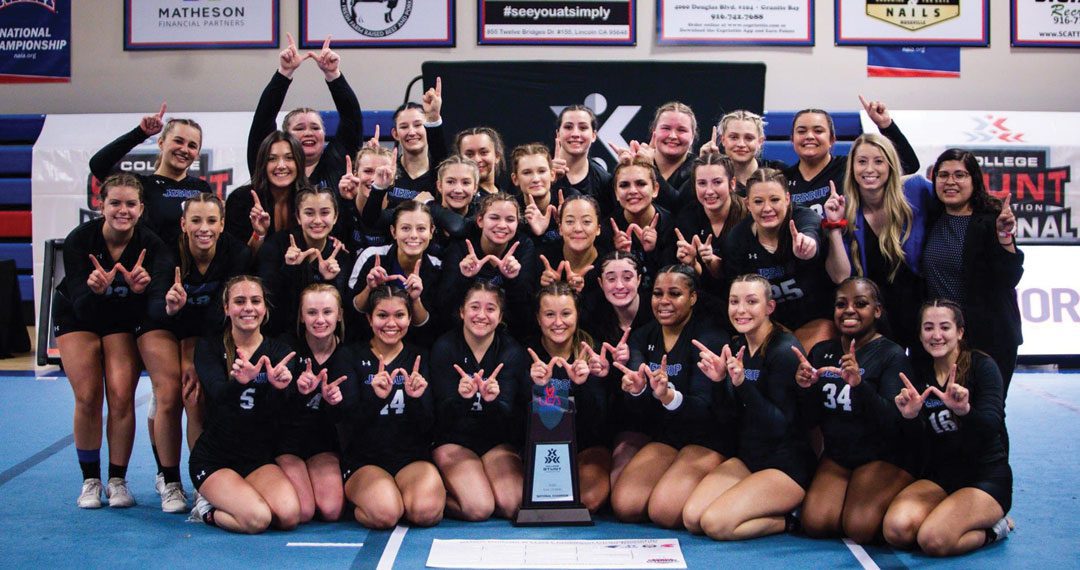 Jessup STUNT Wins National Championship on Home Floor
In just its second season as a program, Jessup STUNT made history by reaching the NAIA Division National Championship Game. The Warriors were not satisfied with a second-place finish, as they went from a winless first season in 2021 to a national champion in year two. It was Jessup's first team national championship as a school since 1995.
"There's really no words to even describe it. Last year, we worked our butt off. We put in the groundwork to build the foundation. We didn't win any games, but that was our preparation," said head coach Alexis Welch. "We were working for year two. And now to be able to win a national championship as a second-year program. It just feels amazing."
Jessup entered the day needing a win to clinch a spot in the championship game and made a statement with a 20-0 victory over Hope International. The Warriors had a flawless second half, as they scored every point possible.
"Today, we changed our attitudes. We came in knowing we could win, and that's what we put out on the mat today, and it's so exciting to see that translate into a national championship," said Welch.
In the national championship game, Jessup faced a familiar foe in the top-ranked defending national champions, the Vanguard Lions. The Warriors faced the Lions yesterday in the winner's bracket, losing 16-6.
Vanguard took an early 3-1 lead after the first quarter, but Jessup battled back to take the first two points of the second quarter. The Lions pulled away in the final two routines to take a 5-3 advantage into the second half.
The Warriors wouldn't go quietly, however, as they stormed out of the gate in the second half to knot things up at five. Jessup shut the Lions out in the third to take a 6-5 lead into the final quarter.
Both teams were deadlocked at seven after the first routine of the fourth before Jessup took a 9-8 lead after the second round. The Warriors called routine eight in the final round to secure the 9-8 victory, as neither team scored a point.
"They had such a fire and such a fight in them, and that's what we wanted. Our goal was to just go out there and play in the National Championship, and so we didn't want to go down without a fight," said Welch.
Welch offered her thoughts on the future of the program, stating that "we are so excited to get together and start working with team three. We know that it's gonna be tough to do a repeat and win another national championship back-to-back, but we're ready to put in the work and go for that national championship again in 2023."
—
View more at jessupathletics.com