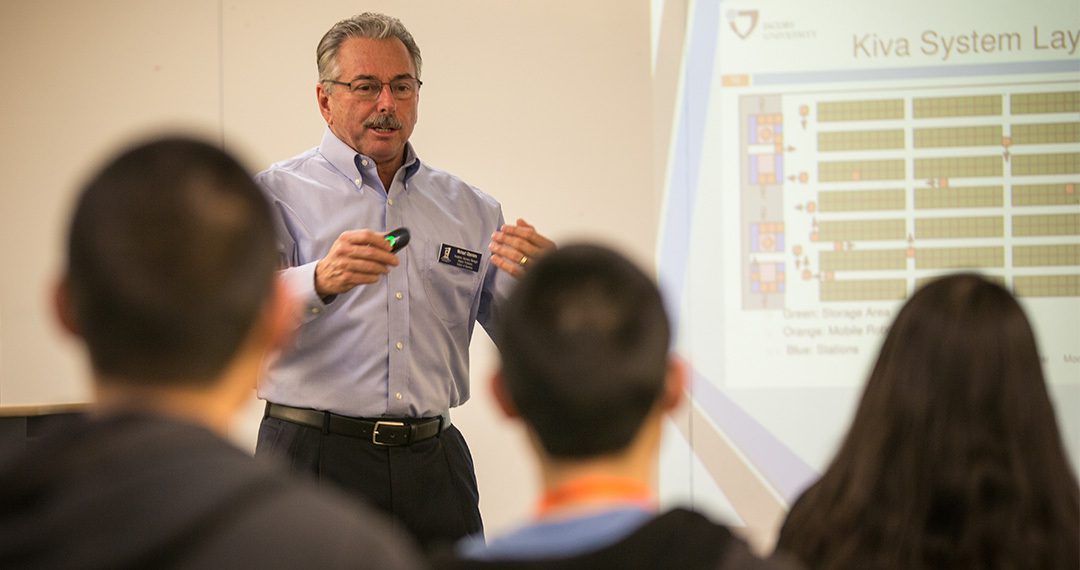 Laughing and Learning with Michael Obermire, MBA
Most people dream of golf, vacations, and relaxation when they retire. When business professor and academic business manager Michael Obermire retired from the manufacturing sector after 30 years in the industry, he wrote a book and began a teaching career. He jumped right into his new adventure, bringing his "real-life" experiences right into the classroom. Michael loves making his students laugh and have fun, all while incorporating academic theory and practical knowledge into his lectures. It's a pleasure to welcome Michael to our Q&A discussion today.
How many years have you been at Jessup?
4 years
What classes do you teach at Jessup?
I teach in the School of Business. I regularly teach Operations Management, Strategic Management, Marketing Research, and Sales and Negotiation Strategies in our undergraduate program. I also teach Global Operations and Supply Chain Management in our Rocklin campus MBA program.
Describe your path to teaching
I was in the industry for 30 years prior to teaching, working in the manufacturing sector with experience in operations management, planning and strategy, supply chain, sales, and marketing. About 10 years before I retired I asked myself what I would do for free, no money would need to change hands, something I would do just because I loved it. My plan was to do those things I loved in retirement. My answer, after sufficient prayer, was writing and teaching. So after I finished my MBA in 2007, I wrote a book. Four years before retirement I began teaching as an adjunct at CSU, Sacramento. In 2016, Jessup asked me to teach for them. I've never looked back.
What's unique about your online teaching style?
I think all teachers try to have fun. In my classroom, we don't just try to have fun and learn at the same time, we definitely have fun.
Jessup keeps their class size small, so I typically know every student, their background, and many of their families. During class, I ask them about sports, teams, jobs, and a number of things I know they are interested in. It keeps the class moving.
We begin each class with a devotional and prayer. To make it more fun online, I pick a song from the '50s or '60s and tell the class it was requested by one of their classmates. I name the person whom I am saying requested the song. They vigorously deny my accusation and everyone gets a big laugh. Learning can be fun.
What do you like most about the current remote learning mode at Jessup?
Learning online exposes the student and me to the future of communication in business. When we are back to "normal" there will be more business conducted via Skype, Zoom and other channels than ever before. They are learning the way business, and life will be conducted. We will still have mostly face to face communication, but our students will be able to adapt to any form of business necessary to have a competitive advantage moving forward.
How can a student get the most out of an online learning experience?
Get involved. Learn and understand new ways. Try. Engage. Continue to be a part of Jessup and the class.
How are you successfully transitioning your traditional classes to remote classes during this COVID-19 quarantine period?
The same material needs to be taught during a semester no matter how you deliver it. Our students need the same learning whether we are face to face or face to screen. So in transitioning to online, I am presenting the same material, but often in a different way. I try to use less PowerPoint and invoke more conversations.
In addition to teaching at Jessup, do you (did you) have another career?
I spent 32 years in manufacturing for domestic and international markets prior to joining Jessup. I was a direct report to the president for 15 of those years responsible for sales, marketing, and many functions in operations. At Jessup, I am also the Academic Business Manager. I help the administration manage the budget and offer strategies to move Jessup into the future.
How are you using your "real-world" experience to help students in your program?
As an adjunct professor, my role is to combine my experience in business with the textbook to create a learning environment that provides academic theory and practical use. It is no coincidence that I teach what I did in business. I also use my connections in the business to bring guest speakers into the classroom. Each semester, seven to ten business leaders talk directly with my students (three this semester via Zoom) about their positions, experience, and thoughts about getting the right job after graduation.
How do you integrate faith into an online learning environment?
A better question could be, "how do I integrate learning into faith?" As a business leader, friend, father, or part of a married couple, you will have storms in your life. It's guaranteed. How you respond determines your place in history and in eternity. We make the Bible our rock and the cornerstone to decision making. We know what standard to live and work by. Integrating faith into teaching is easy. Not doing so is very hard.
What three people (dead or alive) would you invite to a dinner party?
Jesus
Albert Einstein
Queen Elizabeth
For more information about Jessup's business program, please visit their program page.