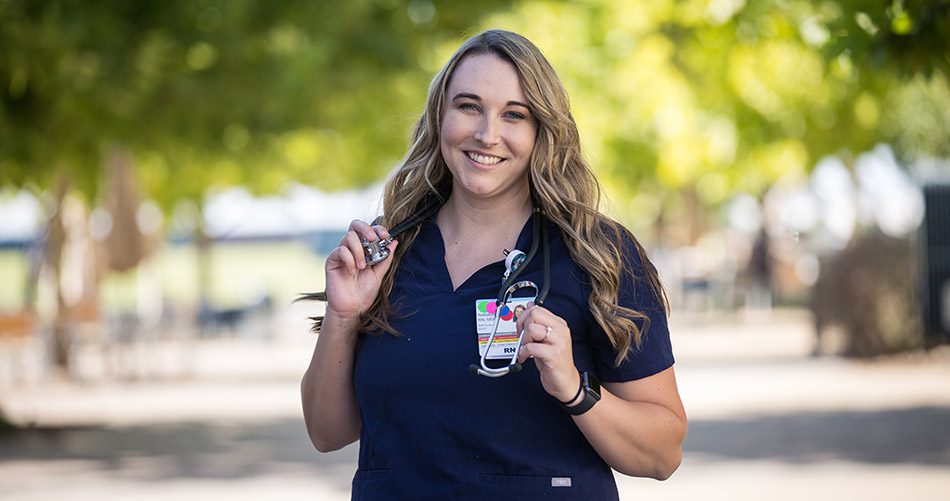 Breaking Ground on Jessup's Proposed Nursing Program
Daily progress takes place on our proposed nursing program at Jessup University, as we work towards our mission to equip future nurses with a transformative Christ-centered education. We recently broke ground on construction of our 6,000 square-foot Simulation Lab, which will house state-of-the-art equipment such as high, mid, and/or low-fidelity simulation mannequins, beds, AV equipment, and more. This lab is essential in preparing our nursing students for their future careers. We are encouraged by the development progress and continue to move forward with hope.
We encourage prospective nursing students to continue studying within our Pre-Allied Health track until they are accepted into the proposed nursing program. Because admission to the program is competitive, students need to excel in the sciences to be considered.
Pam Tijerina, a working mom, is grateful to be a pre-nursing student in this stage of her life. "I have been in prayer for a nursing program to be closer to home," Pam said. She believes God is using her education at Jessup as part of her own healing journey and hopes to complete the program, pass the boards, and continue working for her current organization.
Pam envisions using her degree to help the underserved, including local homeless populations and Medi-Cal patients. "I also have a huge desire to continue global missions with a medical aspect," Pam said. With a heart for ministry, she wants to be faithful to God's call and seize the opportunity to use her nursing skills for the health and healing of others.
Program Director Jen Millar believes Jessup's future nursing students will make a great impact for God's kingdom: "My vision for the graduates of Jessup's Bachelor of Science in Nursing Program is that they will be the hands and feet of Jesus in the community and abroad, bringing comfort to those who are hurting."
Our proposed nursing program is set to launch in Spring 2023.
Watch the video below for a special progress update from Professor George Stubblefield and Kerry Irvine, Administrative Assistant for the School of Natural and Applied Sciences.
Visit jessup.edu and follow us on Instagram @jessupu for more updates on the forthcoming nursing program. For specific questions about this program, please email Kerry Irvine at kirvine@jessup.edu.