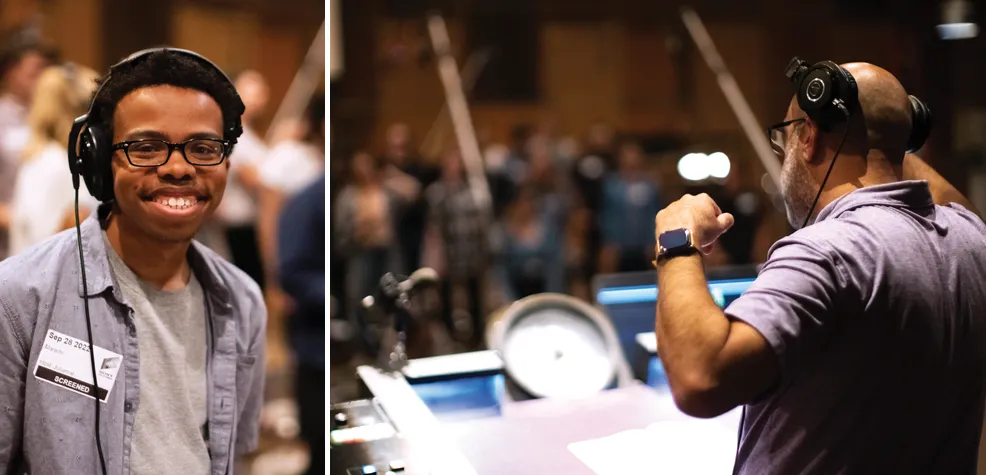 Visual and Performing Arts Update
Last fall semester was one for the record books for Jessup's Visual and Performing Arts. Throughout the semester, Jessup students engaged in all areas of the performing arts — acting and singing in plays and musicals, displaying work in the art gallery, and spending time on the concert stage, tour bus, and in the recording studio.
The illustrious Jessup Theatre department delivered its largest technical production in the University's history with "The Wizard of Oz." In addition, the Visual and Fine Arts department held a stunning art show last October, featuring over 60 original pieces. Finally, Jessup Music's Celebrate Christmas concert welcomed audience members at pre-pandemic attendance levels and performed four additional sold-out concerts the following week at Auburn Grace Community Church. Lastly, Jessup Music's University Choir and Orchestra had the opportunity to travel to Los Angeles and record two albums on the iconic Barbra Streisand Scoring Stage at Sony Pictures Studios.
Not to be outdone, this spring semester, Jessup Music students will experience a completely renovated and redesigned recording studio. They will learn recording and audio engineering in a professional, state-of-the-art facility. Separated by a glass wall allowing spectators to see the process, students will learn recording engineering while using the latest software and hardware available in the industry.
Alan Koshiyama, Jessup Music's commercial music instructor states, "The sound libraries that will be available to students in this professional environment are the same tools used by the most successful film composers in the industry." Koshiyama is an award winning composer with an impressive resume of feature film, television, and national commercial work with credits ranging from Disney, ABC, TBS, ESPN, and PBS, to Time Warner/Turner Original Productions, The Hallmark Channel, The Discovery Channel and 20th Century Fox Atomic.
In addition, the new studio space will accommodate the growth of the Digital Communication and Design Department, allowing students to enjoy a dedicated room for podcasting and video projects in the space previously used for recording projects.
These incredible facilities pair nicely with Jessup Music's newly launched and redesigned curriculum. The new curriculum now offers four specializations in worship arts, performance, music education, and commercial music.
The Jessup Music experience students receive combines new cutting-edge curriculum and state-of-the-art facilities, with experiential learning they obtain from the concert stage, tour bus, and traveling to Sony Pictures Studios. Jessup Music students will graduate with everything they need to be exceptionally employable as recording engineers, music educators, worship leaders, and performers in the field of music.