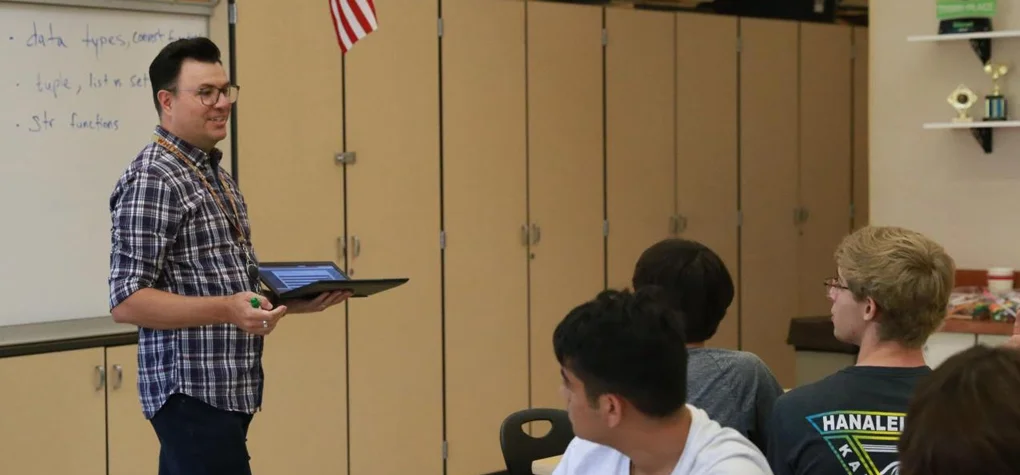 Teaching Brings New Purpose
We hear the sentiment that God works in mysterious ways often enough, but when it comes to the career trajectory of alumnus Thomas Graham, God's fingerprints are all over it. The Lord led Graham to share his expertise from an impressive information technology career to an environment helping high school students develop their career, technology and engineering skills.
Graham brings over 18 years of industry experience to his new role as a computer science teacher and CTE (Career, Technology, Engineering) director at Whitney High School in Rocklin.
Starting off in the computer industry in a helpdesk role, Graham worked his way up the ranks as he earned his bachelor's and later MBA degrees with a focus in information technology. From there he gained experience working with databases and honing his software development skills as he learned everything on the job or was self-taught. What ensued was a lucrative career in an industry he loved.
During the pandemic, he was working on a variety of projects for a major healthcare provider. One project included writing algorithms to process Covid reporting data to governing agencies. "Looking back, the pandemic made me realize I wanted to get into the game as far as ministry goes," he said. "I'm not called to be a pastor or to preach, but my gifting is in building relationships. After months of working from home, I realized God didn't make me to sit at home on my computer all day," he said. "My wife and I prayed for about six months to a year about where God wanted me. Meanwhile, her career as a licensed marriage and family therapist was taking off and we had the financial flexibility to make some changes. That's when I felt the call to teach," he said.
Making the move to the classroom meant obtaining his teaching credential. It was a credential analyst at Rocklin Unified School District who knew Jessup's School of Education had an excellent reputation and an Industrial Technology and Education credential program that could meet Graham's needs. "I have three boys, so the flexibility of going to school one night a week was really appealing to me," he added.
"The world will tell you I'm crazy to leave my prestigious job and go into teaching. People kept asking me, 'Are you sure you want to do this? Are you really okay?,'" he said. "Yes, I'm okay, but I'm fortunate because I know my family is taken care of. Sure, I could earn more money to buy a fancier car, but I don't feel called to do that. I truly believe I'm called to be in other people's lives. I believe God made me for this specific time, after Covid, especially when the world is so messed up."
Graham started teaching in the fall of 2022 and has tremendous impact in the classroom. "Our youth are in trouble, this is a very tough time for them," he said. "Research tells us that roughly 50% of students have anxiety and depression while 38% have thoughts of suicide. Sometimes it's hard to process some of the difficult things you are exposed to as a teacher. Some kids are food insecure or dealing with extremely challenging environments at home. When you see they are learning a skill to turn their lives around, it's really rewarding."
Graham teaches five computer science courses, one of which is an AP course. He also oversees clubs on campus and this fall started a chapter of the nationwide club known as Girls who Code. The club is also planning a trip to Washington D.C. this fall. "Women are underrepresented in tech so it's exciting to be an advocate to get them involved," he said. "Ideally, everyone who wants to, should have access to technology."
Last year, his students had the experience of building an application designed for parents to have better access to school information. "This has been an exciting project and already demonstrated its worth," Graham said. "The students rewrote the app which resulted in saving about $1200 a year and will continue working on the project this academic year as well."