Sydney Fuentes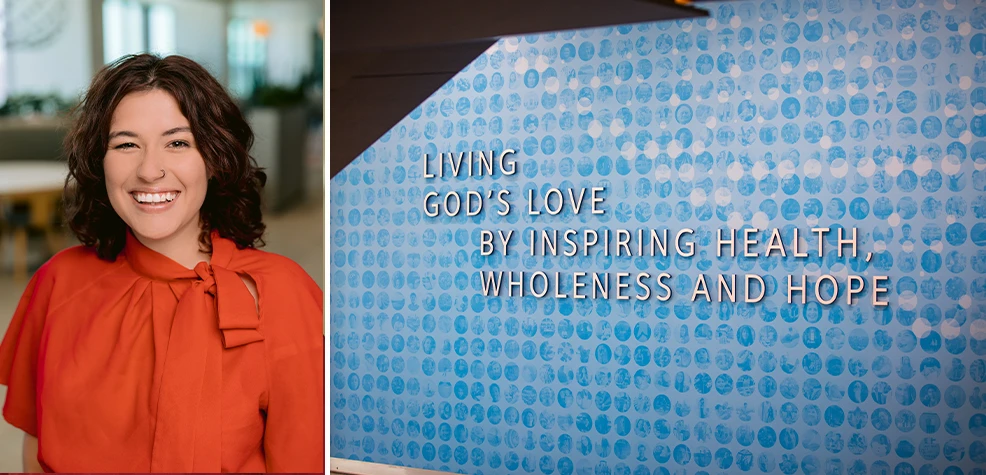 The college years are often filled with transition. Especially when students pursue a specific field, only to find plans changing. Alumna Sydney Fuentes originally set her sights on becoming a missionary with expectations to be a global missions major. But, by the time she received her acceptance letter to Jessup, she worked at a nonprofit whose proceeds went to end human trafficking. "That experience helped me to know I wanted to be a business major because I could focus my knowledge and skills on helping others," she said.
Fuentes declared herself a business major and earned her degree which led to a role working in philanthropy in a health care setting all thanks to Adventist Health's Leadership Residency and Internship program. Adventist Health is a faith-based, nonprofit integrated health system serving more than 80 communities on the West Coast and in Hawaii.
The 2021 Jessup graduate first learned about the residency program during a class trip to nearby Adventist Health headquartered in Roseville. "I was interested from the start because the opportunity exposed me to different aspects of the healthcare arena," she said. "I was also drawn to the company's tremendous heart for the people they care for. It really resonated with me because that was how I felt working in a nonprofit setting."
Her interview process was rigorous, meeting with various panels and individuals during the week-long experience. "Jessup's Career and Life Planning services helped prepare me for this and participating in the mock interviews held on campus was key," she said.
Fuentes is in her second year of residency serving in Sonora, California. After her first year in the program, she hit the ground running landing in the philanthropy department planning the annual golf tournament fundraiser. "I love what philanthropy stands for. It takes me back to my roots and allows me to help the community I'm part of."
Two valuable skills that help in her job today were perfected during her college years: time management and developing the ability to talk with and understand people. Working 40 hours a week and taking 18 units, she still made time to benefit others. For two years she served as an international student ambassador helping students assimilate to a new culture, develop a support system and succeed in their coursework. Having studied Mandarin for seven years, Fuentes was effective while connecting with students and fostering awareness of other cultures throughout Jessup's campus.
Now that she's living and working in a small town, representing her community well is crucial and sharing what Adventist Health stands for is one of the things she likes best about her job. "Since I've had the opportunity to train under people who work, lead and operate in this hospital system, I realize how much the employees truly care about their community. In my role, I get to show that love to the community and that's a privilege."