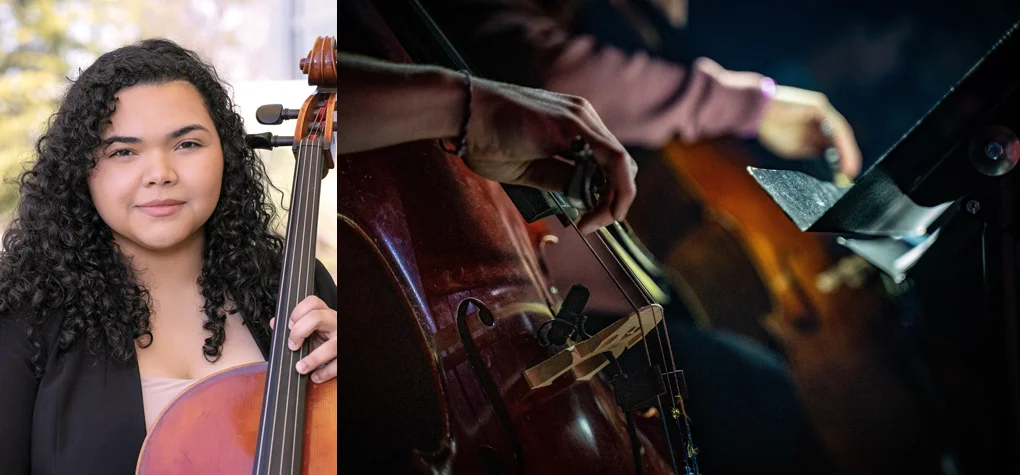 Perfecting Her Talent From Jessup to the Symphony
As a student and musician who strives to be her best, continually polishing her craft, cellist and Jessup senior, Hannah Milam can be found not only performing with Jessup Music's University Choir and Orchestra (UCO), but also with the Auburn Symphony.
The opportunity to join the symphony came by the recommendation of Jessup's Associate Dean, Tom Ruscica. He introduced Milam to a contact at the Auburn Symphony which led to an audition. Although a Covid-related delay ensued, Milam eventually began playing with the symphony last fall. "Hannah has been an amazing student for Jessup Music," said Ruscica. "Her desire to push herself to pursue excellence in cello performance and conducting gives her many opportunities within music education and beyond." Milam was somewhat used to the rigors of playing with a symphony orchestra, an opportunity she pursued during high school.
Growing up in Oahu, Hawaii, Milam began playing cello in sixth grade. "I grew up in a family that sang worship songs together and valued music," she said. Playing the ukulele and participating in Okinawan drumming as an elementary schooler, her mom suggested she try joining the orchestra in middle school to play the upright bass, but she wasn't sure about it at first. "My middle school music program required me to choose an instrument to focus on. As I sat intently listening to various stringed instruments, nothing seemed quite right until I heard the cello and instantly thought, 'this is the one.' It was a perfect fit and has been ever since."
As a senior in high school, Milam played with the University of Hawaii, Mānoa symphony and later with the University of Hawaii West Campus. After high school she moved to California where her husband was stationed at Beale Air Force Base, then went to school in North Carolina for a year. She then transferred to Jessup in the fall of 2021. "For me, coming to Jessup was an easy transition and finances weren't an issue because of the scholarships I received," she said. Milam received the presidential academic scholarship, music performance scholarship and a church partnership grant in addition to federal aid.
The 21-year-old music major is also a music educator who teaches private lessons for all stringed instruments at The Music Institute in Roseville, a music school run by Jessup alumni. "It's been so awesome, I just love working there," she said. In addition, she is a worship leader at Way of Grace Bible Church in Rancho Cordova, California.
Juggling her schedule and studies has been a challenge but one she embraces wholeheartedly. Especially during Jessup UCO's tour season. "I share my schedule with the symphony and plan everything out, from various rehearsal schedules, classes, studying to work," she said. "Our last spring tour was the week before my symphony concert at the Mondavi Center where we performed Beethoven's Ninth Symphony, 'Ode to Joy'. It's definitely busy, but so worth it."
Her Jessup education equips her to draw closer to God. "Jessup helps me pursue the Scriptures and grow in my personal faith. I love learning interpretations of Scripture so I can delineate and discern what is truth. Viewing Christianity from different perspectives, either literally, poetically, historically, or evaluating it from modern perspectives has been fascinating. It's almost a three dimensional layer – how people applied Scripture then and now and how specific denominations would see it now is all very interesting to me."
When Milam graduates next spring, she plans to enroll in the Master's in Teaching program (MAT) to pursue her music teaching career and doesn't anticipate veering too far from the Jessup community where she met her best friend, Rebekah. "When I came to Jessup, it was the faith-based aspect that set it apart. As Christians, no matter our differences, we have our faith to guide us through our education as well as the personal issues and obstacles we go through. I love the relationships I've cultivated here."