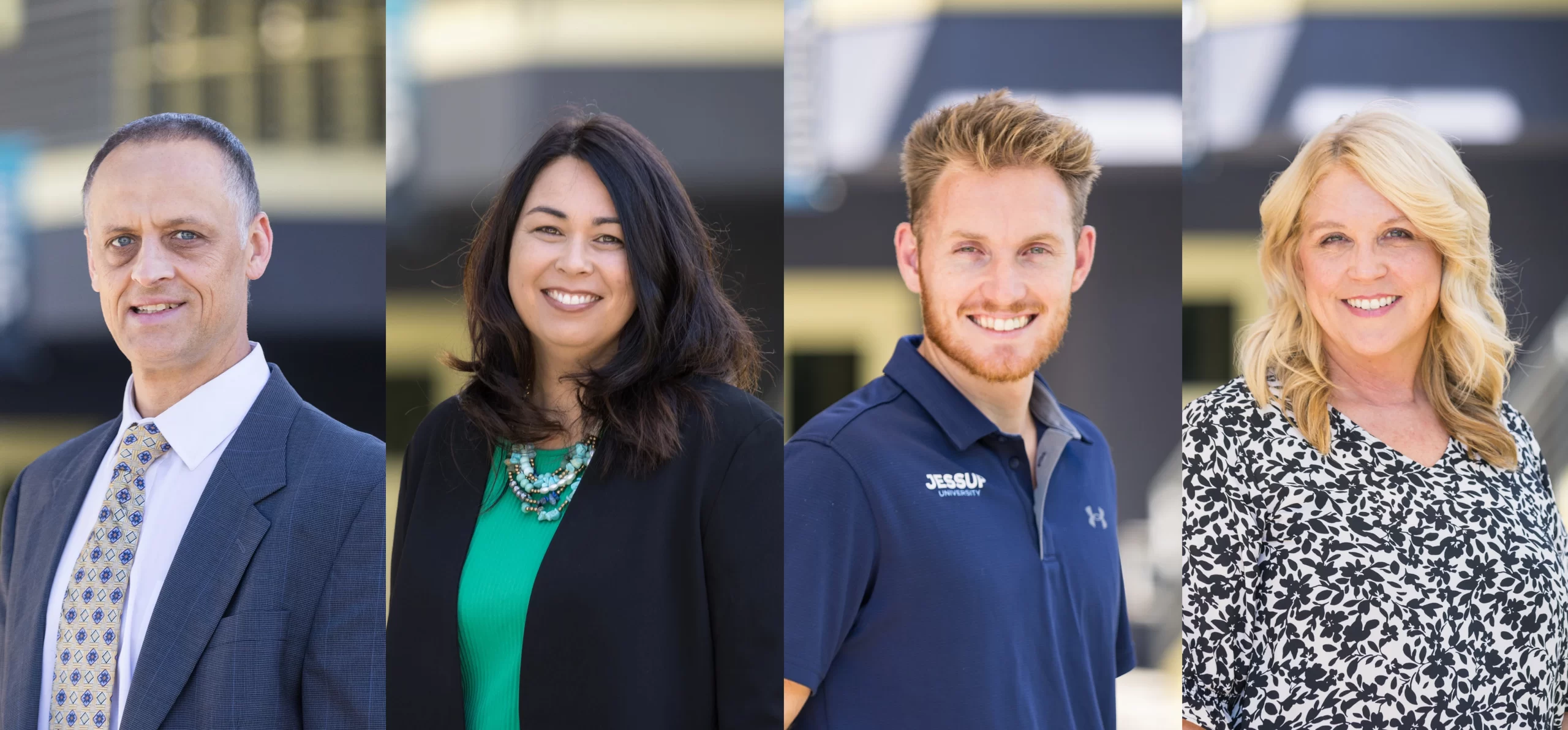 New in Advancement
Steve Velebit
Steve Velebit recently joined Jessup's Advancement team as director of development, strategic giving and is definitely hitting the ground running! Velebit is on the go, taking every opportunity to connect with Jessup's donors, faculty, students, staff and constituents as he attends events, hosts lunches and immerses himself in the Jessup culture both on and off campus. "I'm so honored to be in this position because I truly believe in Jessup's mission. To serve in this capacity is critical as Jessup grows to be the "go to" place for Christian higher education," he said.
Velebit understands the impact of a Jessup education because two of his five kids have enrolled. "I have one student involved with a Jessup traveling music group this past summer and another that just graduated. My graduate recently came back from a Jessup global outreach trip to the Middle East! They've each had significant opportunities for growth in addition to their Christ-honoring education, and for that, I am grateful," he said.
Partnering with the Church is another foundational component Velebit admires about Jessup. Velebit has served as a pastor over the past 20 years in various capacities in addition to working for 25 years in the mortgage banking industry advising brokers and retail clients. On the weekends he is often out supporting Jessup's partner churches who may be in need of a guest preacher as he shares God's Word from the pulpit.
He's also actively encouraging others to get to know Jessup whether it be in the surrounding community in his involvement with Leadership Rocklin, working with the Placer County Association of Realtors, attending Rocklin's State of the City meetings or at a National Night Out event. "It's important for community members to know Jessup provides a top-notch education and produces graduates that are grounded, empathetic and sharp," he said. "We also have an amazing athletics program, and several events that can be a resource to so many."
Velebit also has a strong passion for music and all of his kids are musically inclined and play an instrument. When you enter his office, you can't help but notice the seven guitars he has displayed near his window. "I started playing back in high school. Since then, I've taught lots of people to play and lead worship," he said. He and his wife, Micky, reside in Roseville.
LeAnne Varenkamp
Jessup alumni know firsthand how their education is foundational to their lives and future ministries. Now serving as Jessup's Director of Development and Donor Relations, alumna LeAnne Varenkamp experienced the tremendous influence staff and faculty at San Jose Christian College had on her life. "Jessup is such a special place," she said. "This University has a tremendous heritage. Despite all of its growth, it continues to be a place where future leaders are equipped and trained for the glory of God."
While her career began in church ministry, 17 years ago she discovered her gifting in the corporate arena in sales, strategic growth, and stakeholder relations working within a nationwide franchise known as Dream Dinners. Just five years ago, she took the reins as vice president of sales, operations and store development. It was during that time her husband Paul (also a Jessup alum) accepted a position in pastoral ministry that led the couple and their children to relocate to Newcastle, California.
"I am humbled the Lord gave me the ability to lead and influence people especially when it comes to the mission of equipping students for a lifetime of serving and following Jesus," the San Jose native said. "The more I am immersed in this role, the more I see the Lord answering the desires of my heart."
As a pastor's wife and mother of eight children, there is no doubt Varenkamp has acquired project management, strategic planning and prioritizing skills. "The Lord has equipped me for such a time as this," she said. The oldest of three girls, the extrovert has a contagious zest for life. "I suppose I get my entrepreneurial spirit and sense of excitement and curiosity from my dad. He came to the states from Hong Kong when he was just 13 years old and learned so much from trying new things and persevering."
After meeting with various faculty and staff across campus, Varenkamp noticed something familiar from her days at San Jose Christian College. "Jessup is still equipping the church. Whether it be developing music majors who become worship pastors, Christian leadership majors who lead youth or business majors who become accountants at nonprofits or churches. As we grow, our mission is amplified."
As a new academic year gets underway, opportunities to partner with Jessup abound. "The Lord has so much in store for the Jessup community, and I don't want people to miss out on God's blessing," she said. "Ephesians 2:10 reminds us that God has prepared us for good works. We can't do this with ideas only, we need partnerships and people to get involved."
Garrett Case
Garrett Case knows and understands the transformative power of a Jessup education. No stranger to the ebb and flow of the vibrant campus community, Case seamlessly steps into his new role in Advancement as associate advancement officer.
In 2019, Case earned his Bachelor of Arts in Business at Jessup and is currently enrolled in Jessup's Master of Arts in Leadership program. For the past two-and-a-half years, he previously served the University as an athletic admissions counselor where he most recently brought in and registered 46% of incoming freshmen for the 2023-24 academic year.
As an undergraduate, Case came to Jessup on a baseball scholarship and eventually surrendered his life to the Lord. "I'm so thankful I attended a University that helped me understand what it meant to follow Jesus," he said. "I was baptized a year after I enrolled and that was the first time I felt true peace, knowing I was in the Lord and going to spend eternity with him."
During his time as a Warrior, Case met his wife Lauren who is a high school physical education teacher and currently enrolled in Jessup's Master's in Teaching program. The athletic couple reside in Rocklin and share an interest in playing pickleball. Case also participated in two missions trips. The first to Mumbai in 2018 and the second in 2019 where he served as a student leader to Prague.
A familiar face around campus, Case isn't too far removed from how it felt to be a student athlete. "Having the opportunity to cultivate Jessup's mission and see the University advance in different ways through donor generosity is something I'm really passionate about," he said. "I have a real soft spot for students because I can relate to the challenges they face. Jessup changed the course of my life and to be able to see that happen for other students is very rewarding. If it weren't for our donors, many students may not be able to achieve their academic goals while growing spiritually."
Recognizing this is an exciting time to partner with the growing University, Case put it this way, "Jessup is truly a Christ-centered University set on changing world culture one student at a time. I'm looking forward to connecting with our donors to share about what's happening with students on campus, in the classrooms and the playing field."
Holly Andreatta
Holly Andreatta is the newest member to join Jessup's Advancement team. Moving to Lincoln as a young child, Andreatta has called Placer County home for most of her life with the exception of attending college at Bethany University in Scotts Valley, California where she earned her bachelor's degree in social studies as well as her teaching credential.
For the better part of the last 30 years, Andreatta taught in private and public schools including the last 14 years teaching U.S. history and government at Cooley Middle School in Roseville.
Andreatta is also an ordained minister with the Assemblies of God and she and her husband are associate pastors at Lincoln Christian Life Center. She is often invited to speak and teach at various women's events and other venues.
A servant leader who has volunteered in many areas of the community, Andreatta served for six years on the Community Board of Mercy Multiplied in Lincoln and is currently Board President for KidsFirst of Placer County. Andreatta is also a member of Rotary International of Lincoln and a member of the Lincoln Woman's Club.

Elected to her first term on the Lincoln City Council in November of 2018, Andreatta served as mayor in 2022, and was re-elected, unopposed, in the 2022 election. She is very humbled and honored to support her hometown and Jessup students in her new role.
"As an educator and pastor, I strongly believe in Jessup's mission," she said. "I'm an ardent supporter of Jessup's faith-based curriculum and ability to transform students for the kingdom of God."
Entering the local government arena, Andreatta was drawn to the relationship building and reconciliation aspects of the job. "God has gifted me in the areas of bridge and relationship building. I look forward to connecting people who care about Jessup's mission to help empower more students to have accessibility to Christian higher education."
Andreatta and her husband, Mark, have four grown children.