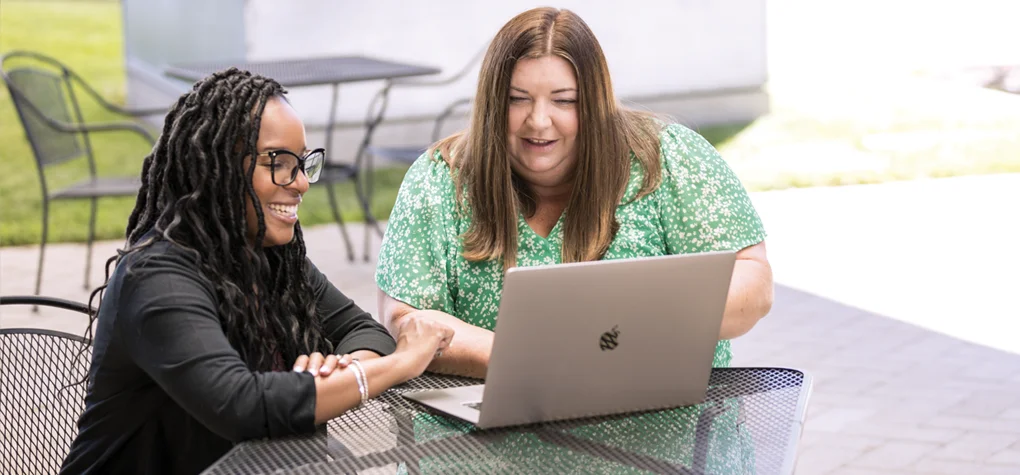 Master in Counseling Psychology
According to the Center for Disease Control and Prevention, more than one in five adults in the United States lives with a mental illness. Over one in five youth (ages 13-18) either currently or at some point during their life, have had a seriously debilitating mental illness and about one in 25 adults in the United States lives with a serious mental illness, such as schizophrenia, bipolar disorder, or major depression.
These statistics, coupled with the impact of the pandemic shine light on the importance of mental health. "It's no surprise that during Covid, the mental health field exploded," said Jessup's Master of Arts in Counseling Psychology (MACP) Program Director, Gina Mertz. "Mental health is finally in the forefront of people's minds and priorities."
Jessup's Master of Counseling Psychology program has experienced tremendous growth and is available to students in-person and synchronous online learning models. Mertz oversees faculty, course delivery, practicum placements and student advising for the in-person program that has graduated nearly 125 students since its inception in 2018. "I absolutely love what I do," Mertz said. "Every day I wake up and say, 'Lord, I can't believe I get paid to do this.'"
Jessup's program is unique for a variety of reasons. It is a dual-licensure program that meets the Board of Behavioral Sciences core competencies for Licensed Marriage and Family Therapist (LMFT) as well as Licensed Professional Clinical Counselor (LPCC) licensure. Also, every course offered is faith integrated and the program runs over 26 months, allowing students more time in practicum (14 months) to see clients and gain valuable experience. In addition, all faculty members are licensed practitioners.
"When I think about what God is doing through our students, I could just cry," Mertz said. "It is truly amazing. The clinical work they are doing is God's work. Our mission in MACP is to equip and empower students to be the heart, head and hands of Jesus. We want them to have posture, humility, compassion and empathy from a heart perspective. For their head, they need knowledge, wisdom and the ability to accurately assess and diagnose what is happening with their clients. For their hands, they are out on the front lines doing the work in families, marriages, couples, individuals and groups alike. They are busy bringing healing to a hurting world."
Jessup's MACP program is also offered fully online in a synchronous (or live) mode. Meeting weekly online, the program launched just one year ago and is overseen by Dr. Stephanie Caine. The program started as a response to Covid when students utilized the Zoom platform for classroom instruction. "The decision to launch the synchronous program really came from the Holy Spirit," Caine said. "During Covid we noticed some students were thriving in this mode. Accessibility is a key concern. There are so many students who have geographical constraints or rigorous schedules that prohibit them from coming to campus, but they still desire to be part of a regular learning community. Being faith-based is also sought-after however, there aren't many programs of this nature out there."
Mertz put it this way, "People are seeing the good work our graduates are doing in the field and word of mouth travels fast. Because of the competence, professionalism, and Christ-like characteristics they have built into their work ethic – it is highly desirable to see a counselor from our program."
Jessup's MACP graduates aren't experiencing difficulty finding a job. In fact, they are having difficulty determining the best job from all the options they are presented with.
"Historically, in terms of mental health, there has never been a time when more programs are being funded locally, state and nationwide. As a result, there are so many jobs available," Mertz said.