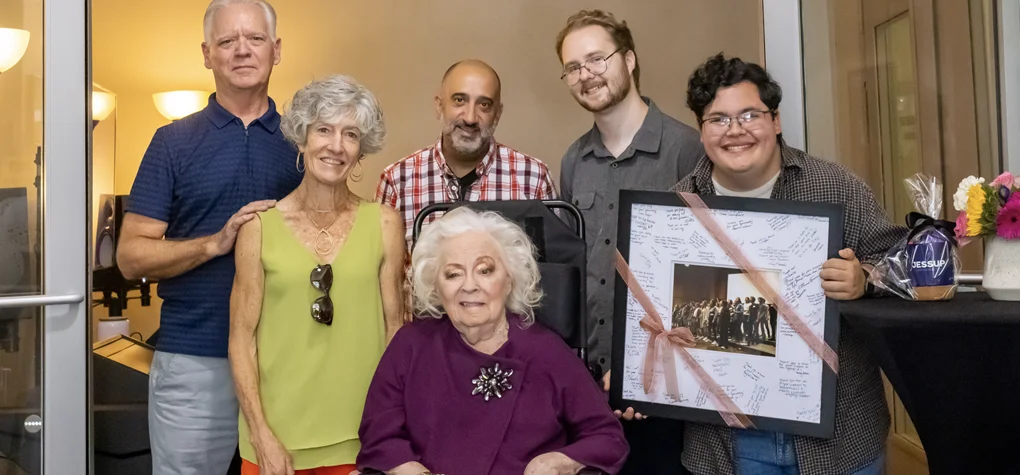 Honoring Judy Holsinger | Jessup Music
Jessup's music recording studio has undergone some hefty upgrades to better shine the spotlight on the University's state-of-the-art commercial music program. A few weeks after students started the fall semester, a celebration took place to honor Holsinger for her continued commitment to Jessup, dedicating the music recording studio in her name.
Associate Dean Tom Ruscica welcomed the group to honor Holsinger in front of the improved music recording studio. "Judy, you have been incredibly, no pun intended, 'instrumental' in helping us focus on commercial music here at Jessup," Ruscica said. "Judy is definitely a stakeholder, but more importantly…a friend, and we are so grateful."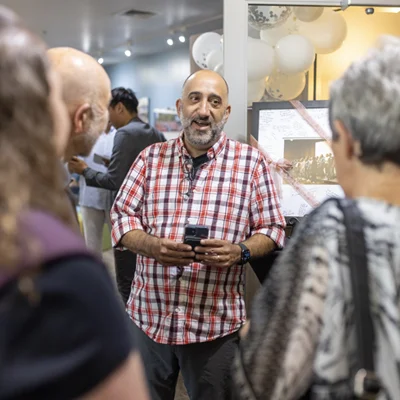 Holsinger's generosity gives Jessup students the experience of once-in-a-lifetime recording experiences at George Lucas' Skywalker Ranch and Sony Pictures, some of the most world-renowned and iconic recording studios. These extraordinary experiences are what set Jessup Music apart and give students a chance to work as professionals.
"As computers have revolutionized and democratized the music production process, this space will be used to edit, mix, match and upload raw files from the Skywalker Ranch and Sony Pictures recording sessions," Jessup's Instructor of Commercial Music, Alan Koshiyama said. "Our digital audio workstations use Pro Tools which is industry standard. Thanks to Judy, we have the ability to mix and overdub soloists or add instrumentalists as we produce music. In addition, we are able to use Apple Logic Pro's large collection of plug-ins, isotope ancillary technologies that allow us to do other things like audio restoration, clean up and tuning."
Commercial music student Tim Wilson shared about his recording experiences at George Lucas' Skywalker Ranch. "When we first get to Skywalker, everyone is in awe of its incredible legacy. Just knowing that so many movies and soundtracks are recorded there is intimidating," he said. "Instead of feeling the need to prove ourselves, we experienced the freedom to partake in the blessing of an extraordinary opportunity to record music. I am very thankful to have been a part of that journey."
New student manager of the recording studio is Isaiah Mesina. He is busy scheduling students' time in the studio as well as overseeing software and hardware. Mesina also spoke at the celebration. "As a freshman, I had a lot of doubts about myself," he said. "Coming to the studio provided a sense of control, helping me gain confidence in who I am and what I want to do with my life. Creating music also helped me grow closer to God so, I'm excited to help our new students gain confidence and also bring glory to God."
Alumnus Tommy Dunham ('22) also shared a few words at the ceremony. Although Dunham wasn't a music major, he was a member of the University Choir and Orchestra and Crossroads performance group. "Going to Skywalker and being featured on music tracks was an amazing growth experience for me," he said. "I learned that making music has an element of discipline and excellence that has to be taken into account when you are recording music. Going through the process taught me a lot about how to be disciplined and excellent in the gifts that God has given me and how I can steward those really well. There is a lot to love about what this studio is going to do for our students."