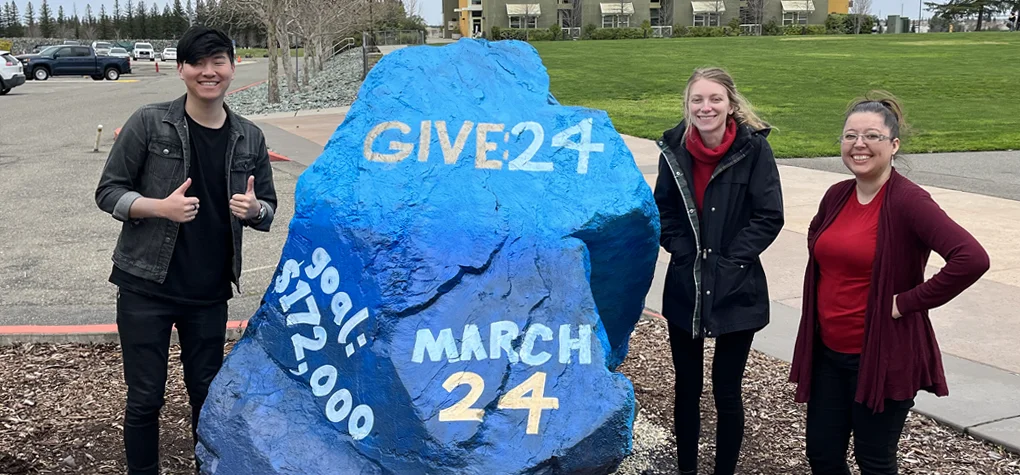 Jessup's Newest Tradition
From tug of wars to dance marathons to trivia, most colleges have a favorite tradition and Jessup is not exempt. The Penguin Mailbox, Rikki Tikki, Nationball, late night breakfasts or the Warrior Walk are now welcoming the newest tradition on campus known as Warrior Rock. Various groups around campus sign up to paint the rock to help support different activities from athletic events to art shows to fundraisers. There's no doubt that Warrior Rock helps create lots of conversations around campus.
"Traditions like Warrior Rock play a strong role in developing our campus culture," said Director of Student Orientation and Engagement, Stephanie Maus. "In some ways, traditions are what makes Jessup…Jessup."
While students were away on spring break last semester, the 60,000-pound boulder was brought in to kick off the new tradition. "Students joke about how the rock literally appeared out of nowhere," said Grace Keough. "It's become really popular. If you just say, let's meet at the rock, everyone knows what you're talking about."
Warrior Rock is located just outside the field entrance to Warrior Arena. "It's highly visible from every line of sight on campus," Maus said. "As you walk up the ramp, past our resident halls heading out of Gelsinger Village or from our Crossroads Cafe, you can see the rock which encourages students to check it out."
Last March, Warrior Rock's inaugural painting promoted summer and fall registration with student success coaches. This academic year, Warrior Rock was the culminating location for the traditional Warrior Walk geared toward incoming new students. "It's been great because we've had a hugely positive response from students and campus departments so far," Maus added. "Within the first two weeks, we had 11 reservations."
Students are encouraged to sign up via a website link complete with all the specifics to keep in mind while embarking on this artistic endeavor. This tradition will offer valuable opportunities not only to paint something but to be a constant and visible reminder on campus that Christ is the solid rock on which we stand and build our foundation at Jessup.
For more information visit the Jessup Student Government website.