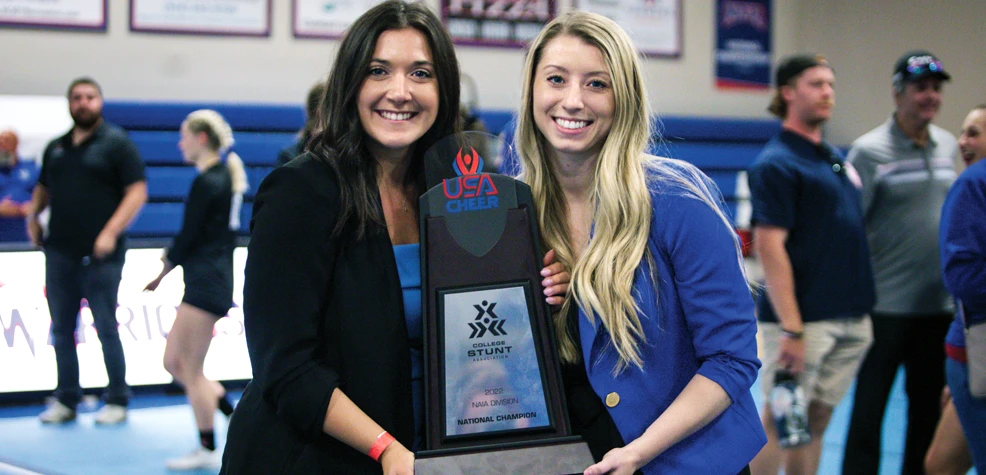 Jessup Stunt
When Alexis Blunk walks into Warrior Arena, home of Jessup STUNT, her eyes are drawn to a new addition to the arena's décor: a banner. Blunk, entering year three as the head coach of Jessup STUNT, led the program to a national championship in just its second year of existence.
The bar has been set exceptionally high for the 2023 season, and the roster Blunk calls Team Three.
"Team Two did the unthinkable, and they brought home a national title," says Blunk. "When we started this program, myself and Brandon Bowling, we talked about giving the program five years for this to happen. So to be able to do it in year two, it's just absolutely crazy."
Even crazier is how they did it. Jessup beat reigning national champions Vanguard, a program that defeated the Warriors by 10 points, just less than 24 hours before the championship match. The final moments of the championship match were a defining moment for Blunk. Leading 9-8, Blunk called routine eight, one neither side could complete, guaranteeing her team a victory.
For a young coach, Blunk was unphased by the moment, as she reflected on her years around the sport. "I actually started STUNT when I got to college at Cal Poly," says Blunk, adding that she grew up cheerleading. "My coach (Annette Laron-Pickett), taught me a lot about STUNT and being strategic with your plays and different things like that. That's where I learned the strategy behind the sport."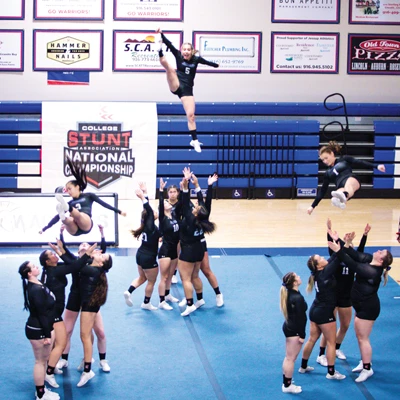 It's been a whirlwind of an offseason for Blunk. To start, she got a new last name, as she married James Blunk, the man tabbed to be the first head coach for Jessup Cheer. Together, the couple will look to continue the successes seen on the STUNT mat at all Jessup Athletics events.
But on top of the new name, and banner, Blunk must adjust to another change: recruiting.
When she took the job in 2019, Blunk's recruiting needs were simple. She needed players. Those brought in to make up teams One and Two paved the way for future programs, and they were rewarded for it, as the team received their National Championship rings at a private event last November. Now Blunk and her squad enter year three with a target firmly cemented to their back. The expectations of future Warriors have changed.
"Our recruiting has gotten a lot harder as we've been growing and progressing," adds Blunk. "We definitely have a set of standards that we have to hold when looking for new recruits. We do have a very big roster this year, with 41 athletes, so our spots for next year are very limited. We're trying to find those best athletes that want to be a part of this program."
Those who claim a spot on Team Three will get opportunities unlike any in collegiate STUNT. Team Two traveled halfway across the country for a three-match trip in Oklahoma. The Warriors will take on some of the biggest names in collegiate athletics in 2023 when they visit Dallas for four matches.
It's all part of Blunk's goal for 2023. Jessup will square off against the likes of Kentucky and Texas Tech.
"This year, our goal is to go out there and play those big Division I schools, and not just play them, but we want to beat them," Blunk says when asked what is left to be done after winning a championship so early. "We know we can hold our own in the NAIA now. So we want to keep moving up."
The motto of the Warriors, says Blunk, is "Go big or go home." And last season, the Warriors got to experience both at the same time as the 2022 NAIA STUNT Nationals took place inside Warrior Arena. It was a picture-perfect setting for Jessup in 2022, one they hope to replicate this spring.
"It was so special to be at home in front of our fans, in front of our community, and be able to bring home that title," says Blunk, adding she wants to replicate that hometown advantage everywhere the team visits in 2023. "We're already trying to rally up some parents to come with us and support us when we travel so we have that same energy. We definitely think that was a huge factor in our win."
STUNT continues to be one of the fastest-growing sports in the United States. The growth can be seen close to home, as five GSAC schools now house STUNT programs. More teams are coming for the trophy that currently sits in the Warrior Arena lobby, and that's how the Warriors want it.
To be the best, you have to beat the best. Right now, the best in NAIA STUNT lives right here in Rocklin. If you don't believe us, come see the banner for yourself.