Jessup Partners with Adventist Health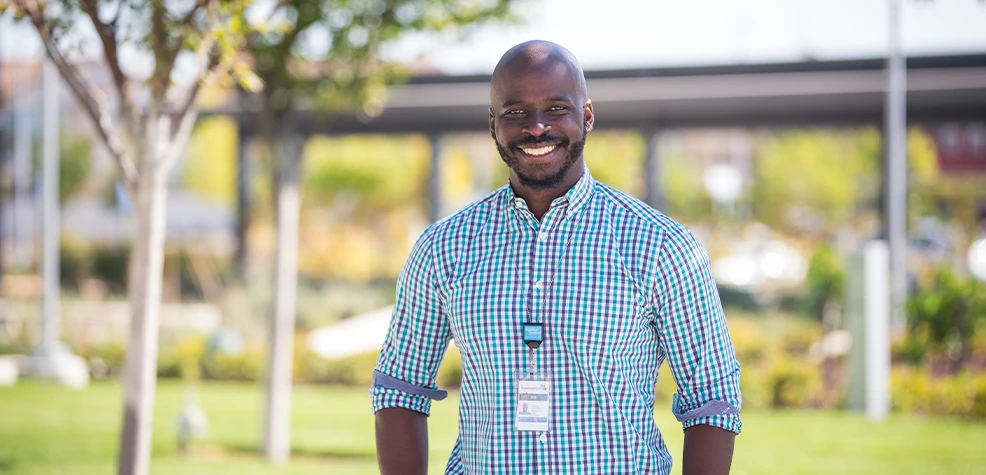 One of Jessup's loyal community partners is Adventist Health, an organization whose mission is "Living God's love by inspiring health, wholeness, and hope." Only a few minutes away from the University's Rocklin campus, everything about the organization—from its dedicated staff to the bright, welcoming spaces in corporate HQ—embodies this mission.
A unique opportunity Adventist offers to select Jessup students is leadership residencies and internships for those studying the fields of business, finance, and psychology. These are run by their fun and charismatic Director of Leadership Resident and Internship Programs, Tim Olaore.
"We had Jessup interns for the past two summers who were phenomenal," said Olaore, whose childhood dream was to be a digital animator. Now, he channels his love for people and creativity into providing meaningful professional experiences for the next generation. In 2022, he worked with approximately 12-13 leadership residents and 20 interns from a variety of educational backgrounds. Most of these were remote positions from across their 24 markets.
"Tim is the absolute best fit for Adventist's early leadership development initiative and has made recruiting at Jessup a priority for connecting with partner colleges," said Christy Jewell, director of career planning and external workforce development partnerships at Jessup.
Adventist engages with partner schools in the fall before recruiting student interns and residents for the following year. They host a fall information session on Jessup's campus near the time of Calling and Career Week to share highlights about their organization and the vocational opportunities available. It's a great chance for students to hear from Jessup alumni who went through the program first-hand.
Outside of recruiting events and interviews, Olaore hopes to see more engagement and partnership in understanding what skill-sets a given industry needs and how they can work together to ensure students graduate with them. He sees a bright, innovative future with a more customizable education for students. In a perpetually changing world, what things are students interested in learning? What experiences are they excited about? How can industries create more experiences that are meaningful for students? These are questions he thinks employers should be asking. That way, they can partner with schools to ensure the curriculum reflects what is relevant in the industry.