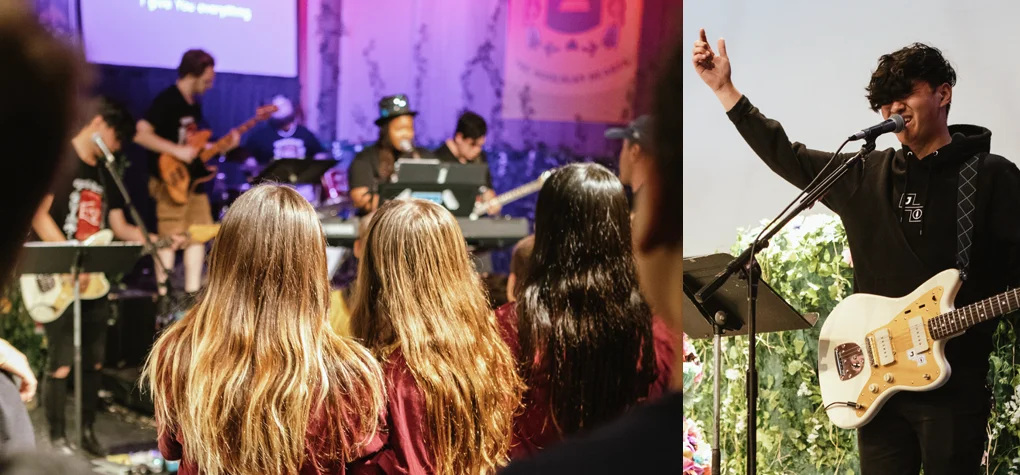 Jessup Music Students at Mount Hermon
Last summer, Jessup Music students gained valuable experience serving at Mount Hermon Christian camp located in the Santa Cruz mountains. The students were on staff, leading worship for Mount Hermon's Ponderosa Lodge geared for middle and high schoolers.
Jessup Music has a long history of students participating in the band at Mount Hermon, as far back as 2012. This year, the popular camp reached out to see if Jessup Music could provide a band for the entire summer as well as create a long-term partnership to support this aspect of camp largely due to the quality of musicianship Jessup Music students deliver.
Students Sierra Wilburn (keys and vocals), Isaiah Mesina (electric guitar), Tim Wilson (bass) and Brett Butterfield (drums) joined alumnus and band leader Tommy Dunham to serve over the seven summer sessions. Jessup's music department required musicians to audition to later become paid members of Mount Hermon's Ponderosa Lodge band.
The students were also considered support staff and built relationships with campers as they ate together, played games, did skits and hung out in small groups. When they weren't rehearsing, they had the opportunity to help out in the ice cream parlor (known as the Fountain) and Snack Shack which proved to be a great way to get to know campers better. Students also shared their Jessup experience with campers who might be interested in attending a Christian university someday.
The student band performed morning and evening worship services and selected music to fit the theme for the sessions entitled, Even If: Hope in the Goodness of God. "The overall goal was to connect with the campers musically as well as give them songs that they may hear again that would remind them of the summer they had at Ponderosa," Dunham said. As band lead, Dunham organized the songs, set lists and led worship on the platform to invite people into a place to experience the presence of the living God.
The experience benefitted Jessup students in a variety of ways. They were able to spend the summer with an amazing community of believers as they spread the Gospel to campers through music and meaningful interactions. Musically, they performed a tremendous amount of music sets for an extended period of time. In fact, they played 110 sets during the whole summer which is equivalent to two years of leading Sunday worship service sets!