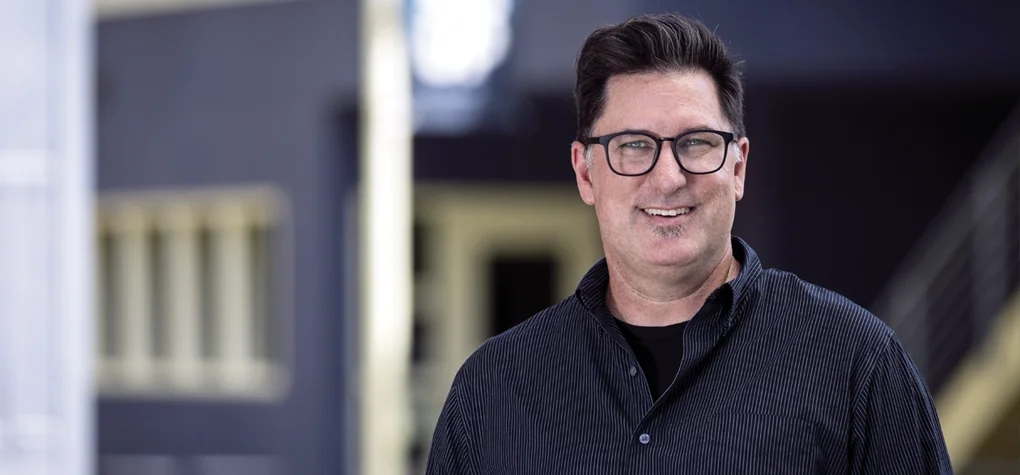 Introducing Norm McDonald
It's been said that storytelling is one of the oldest forms of communication, but most would agree, the medium has changed tremendously. From hieroglyphics on cave walls to digitized memes on TikTok, knowing and understanding how to tell a story that resonates with an audience is critical in the field of communication.
"It's so important to be able to communicate an idea in a way that is emotional and connects to something deeper," said Jessup's new Digital Communication, Art & Design faculty member, Norm McDonald.
If you listen to contemporary Christian music, you probably are familiar with K-LOVE radio, where McDonald has shared his expertise nationally and globally for the past 23 years. From logo design and branding, to event and concert graphics, to vehicle graphics on the road and the NASCAR track, McDonald's highly visible work has helped grow the expansive brand from the ground up.
McDonald's passion for digital communications started in an academic setting, initially from a writing aspect when he was part of his high school yearbook team. His teacher's husband was a graphic designer, "Because of him, she brought a unique level of cutting-edge technology and a graphic design sensibility to our high school yearbook class," the Missouri native said.
He later enrolled at the University of Missouri – Columbia's School of Journalism where he met his wife and found himself designing everything from t-shirts to fliers to newsletters for friends or various clubs and organizations. After college, he and his wife relocated to Turlock, California, where she taught school, and he worked in a small scale print shop and continued to ask God, "Where to next?" His answer became clear one day when he turned on the radio to hear an advertisement about K-LOVE's need for a graphic designer. "Pretty much everyone I knew encouraged me to apply," he said. The rest is history.
Making the move to higher education wasn't completely unfamiliar since McDonald has taught an introductory art course on faith and creativity at Jessup. "I've been amazed at the students here. It's great to see their hearts and desire to reach the world for Jesus beyond this campus," he said. "One of the best things about teaching is helping students figure out who God made them to be. I want to find the creative spark in each student and fan it into flame."
Teaching three courses, creating brand new curriculum for two of them, building effective teams and overseeing practicum and art installations on campus are among the first tasks McDonald will conquer. "I consider it a higher calling to communicate who God is as well as the value of His people," he said. "In so many aspects, it's about bringing texture to who God is." His courses will equip students to better meet employers' needs for highly sought after positions such as content creators or those who can effectively write and produce compelling digital design.
Partnering with Program Director Paul Robins, McDonald is excited for the direction the program is heading. "Paul has truly championed my arrival on campus," he said. "I've worked with highly creative people for the past 23 years and it's fun to work with someone who has a background in radio again. I'm looking forward to making this an amazing year."