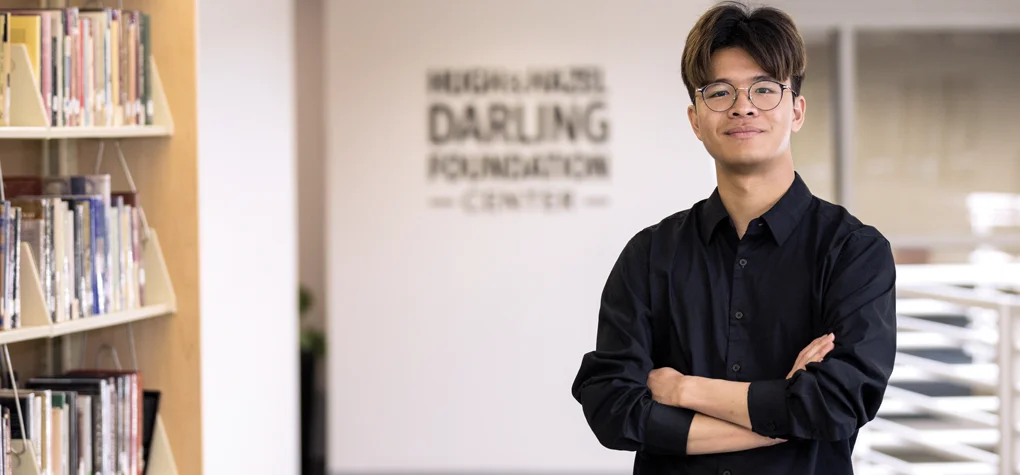 Introducing Carlix Tin Hang Lung
While most Jessup students come from California, there continues to be a growing number who hail from various regions across the United States as well as other countries. Senior Carlix Tin Hang Lung was born and raised in Hong Kong but made the decision to attend Jessup when he was in high school. "As a very active STEM student, it was my dream to pursue computer science and attend college near Silicon Valley," Tin Hang Lung said. Originally, he planned to attend community college in the Bay Area until Jessup's business faculty and international admission staff discovered him during a competition in Hong Kong where his winning entry earned him a full year's tuition.
Tin Hang Lung was part of the winning team from Hong Kong and Macau China's computer science competition where students from regional top private and public high schools competed to develop unique computer applications.
The team's winning entry involved an application utilizing artificial intelligence to scan items in a refrigerator. The application was designed to relay the amount and type of food in the fridge and based on the content, generate recipes. This wasn't his first competition of this nature.
A few years earlier, he won another competition enabling him to come to the United States and tour Cisco Systems in San Jose, California. He also was invited to Google to join a team that worked on recreating Google's Comic Bubble Zoom technology, a more interactive way to read comics on a mobile device.
Despite his visits to the United States, his parents weren't enthusiastic about their only child attending school so far from home. "Although my mom is Christian, she wasn't comfortable having me go to college overseas," he said. "It was hard because I wanted to honor her wishes but that meant I wasn't going to be able to be near the Bay Area. I was so relieved when she later told me she felt the Lord's calling for me to go to Jessup. I really believe that the Holy Spirit led me here."
Transitioning to life in the United States certainly presented some challenges however, Tin Hang Lung enjoys the relationships he has with his professors. "The connection is so genuine and personal," he said. "For me, I'm getting more than an education, I know my professors really care for me." In spite of feeling homesick and somewhat lonely, his professors helped him plug in. He also had the support and welcoming attitude of the Jessup student body and campus community. "I feel so much gratitude for my wingmates in Sunset Residence Hall. They are always there for me," he added.
Tin Hang Lung's love for technology started early in life. "I've always known I like solving problems," he said. "When I was in eighth grade, our school began a new STEM program so I took every course they offered and still wanted to know more." Now he is interested in data analytics, particularly the mental aspects of the emerging field — that's not surprising. When you meet Tin Hang Lung, you can't help but notice his engaging personality, love for people and grasp of the English language.
During his sophomore year, he became an international student ambassador and was later promoted to International Student Service Program (ISSP) intern. Last year, the ISSP, presented a multicultural event known as the International Night Market that featured performances, food, a retail market and games. Two years ago, he was credited with organizing Jessup's Lunar New Year fashion show, another popular event held on campus.
Upon graduation, he plans to pursue his master's degree in psychology. He doesn't find it much of a stretch from analyzing data to analyzing human behavior. "I believe that combining my skills in coding and psychology will allow me to make a meaningful impact in the world," he said.