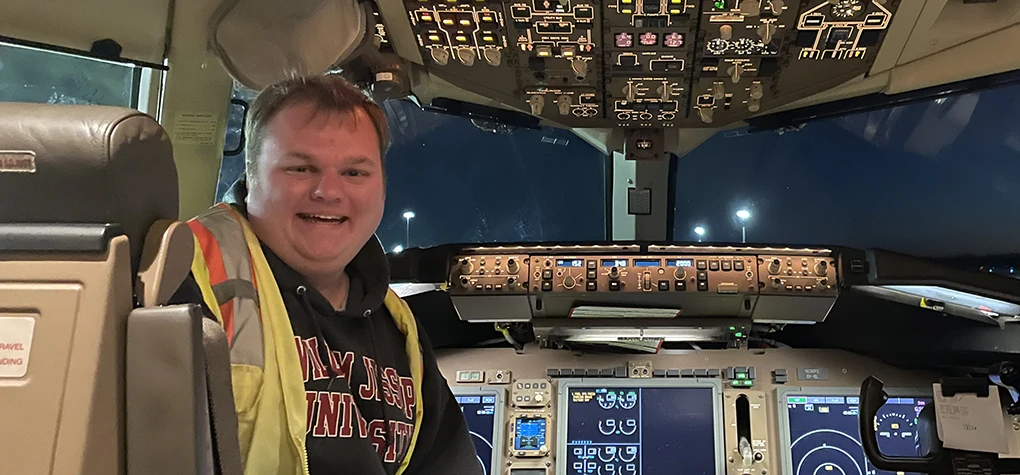 Internships Pave the Way to Professional Careers
We hear it time and again that internships are instrumental to landing the job of your dreams and for Richard Grimmett, theory proved true. Like many students, the pandemic caused Grimmett to relocate back to his hometown, so he settled in Carmichael, California. During this time, he was able to acquire an internship at Pride Industries which eventually led him to Jessup. "I decided I didn't want to go back where I was originally attending school and some people I knew at Pride suggested I look into transferring to Jessup," he said. "It turned out to be the best decision I've ever made. The education I've received is top notch and the amount of support and care for students has been incredible."
It wasn't long before Grimmett transferred to Jessup. He earned his bachelor's of science degree in business last December but he didn't stop there. He's currently enrolled in Jessup's Master of Accountancy program. "One of the internships I had as an undergraduate gave me the opportunity to explore different aspects of business from finance to accounting to sales," he said. He became interested in pursuing accounting not only because the profession is in high demand, but also because it is foundational to any business. "I've learned that if you understand accounting really well, it helps with many aspects of business. I remember being told early on that you can teach finance to an accounting person but it's harder to teach accounting to a finance person. For some reason, that really stuck with me."
Grimmett recently found himself relocating again, but this time for an impressive job offer in Florida where he is an accountant for Jacksonville Aviation Authority (JAA) which operates, manages and controls all publicly owned airports and ancillary facilities located within Duval County, Florida. "I've always had a passion for business and aviation so this is a really exciting opportunity for me," Grimmett said.
While at Jessup, Grimmett had the opportunity to complete four internships that provided him with directly applicable experience. "I had an internship with Breeze Airways in Utah so I moved there for four months and continued to do school online," he said. "The flexibility of Jessup's program is nice because you can attend in person or you have the option to be remote too."
Grimmett also interned for the Sacramento International Airport as well as Deloitte, a world renown company known for providing audit and assurance, tax, consulting, as well as risk and financial advisory services to a broad cross-section of the largest corporations and governmental agencies in the world.
"There's no doubt that my education and internships helped me secure my job with JAA, as well as the support I've received from our Career and Life Planning Services," he said. "They made a few corrections to my resume and helped me with the interviewing process. It's nice to know that any student can go there to get guidance regardless of where they are in their job search process. If they don't know what a cover letter is or if they need advice on the job, it's good to know they are a resource to students and alumni."
Attending Jessup has also impacted Grimmett's faith. "Jessup has helped me grow closer with God," he said. "Before coming to Jessup, I didn't attend church as much. The Jessup community has definitely made my faith stronger and helped me recognize we are all God's children and He has a plan for each of us."