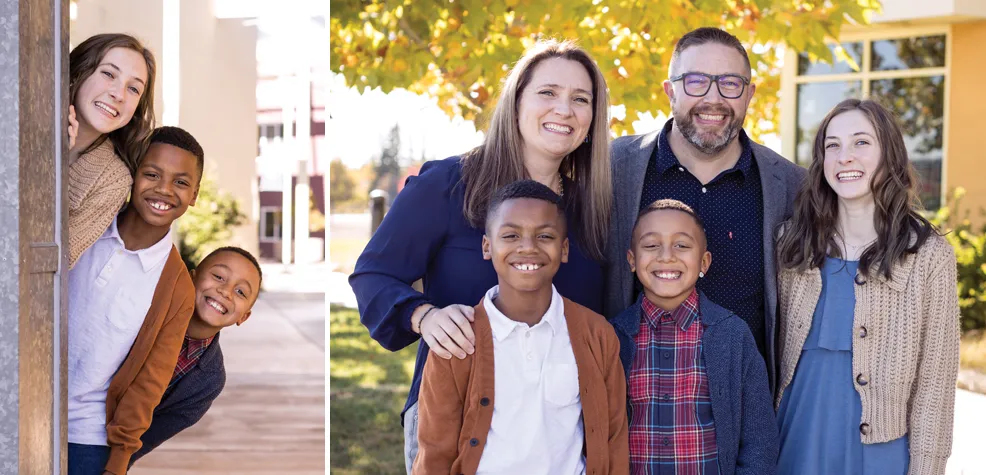 Brandon Farmer
After high school graduation in Nebraska, Jessup's Director of Student Life, Brandon Farmer, enrolled his somewhat angsty 19-year-old self eastward across the country at Indiana's Anderson University. There, he pursued his dream of playing football and also became very involved in student activities. A strong communicator and natural at fostering relationships, his gifting toward working with students took the helm when the time came to choose it or playing the sport he loved.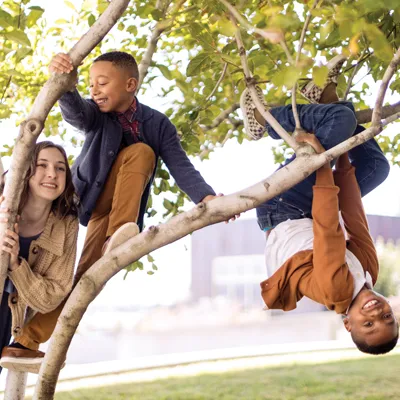 It was during his sophomore year in student life he met his mentor, Brad Bowser and it became a relationship that literally transformed his life. "If it weren't for Brad, I don't think I would be where I am today," Farmer said. "He developed my leadership skills, inspired me to work with students and repeatedly told me God had bigger plans for me, and he was right."
There were a few other notable relationships formed at Anderson. That's where he met his amazing wife of 19 years, Nicole, and another familiar face on Jessup's campus, Residence Director, PC Walker. "In college, PC and I used to do comedy skits together, and our wives were roommates. Now we work together — it really is a small world," he recalled.
As Director of Student Life, Farmer is responsible for serving students as well as the overall vision of the student experience at Jessup. "I make sure my team is meeting the needs of our ever-changing student populations," he said. That equates to working directly with teams across campus including student success coaches, campus ministries and student life. "To be effective, all three of these teams need to work together. I ensure we communicate and move forward together on behalf of the student," he said. "If one of my residence directors becomes aware of a student problem, we connect with our success coaches and ministry leaders to better understand the issues which helps us approach students with the most effective resources."
He is also tasked with overseeing the campus store, now located in the student life building. "This is a cool opportunity because it's a hub for visitors, prospective students and families when they come to campus. Having this space allows us to better brand ourselves in terms of what students want. I'm excited about having our own signature branded sweatshirts and all the other possibilities that will continue to bring our community together."
Definitely an eight on the Enneagram scale, Farmer is visible and accessible to Jessup students. "Proximity is key, especially in a world so reliant on technology. Students are always online, so I try to make sure I'm there spending time with them in person. I would hope that most people think of me as a bridge-builder.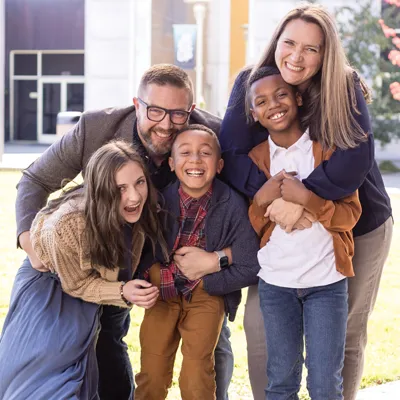 Someone who is collaborative, passionate and does what they say they'll do," he said. "I learned first-hand how important that is, especially as a college student and I strive to do it every day. I guess you could say that the 'Woo' is genuine!"
Loving his job for the variety of unknown circumstances he faces each day, Farmer celebrates people well and credits his team for the role they play. "I say it all the time, 'I'm only as good as the folks in this room.' I work with a lot of great colleagues and I'm thankful for them."
He also loves living on campus with his wife and kids, Ella – 13, Judah – 10, and Oliver – 8 who enjoy the campus atmosphere where Nicole homeschools them. The couple have spent over 15 of their married years on various college campuses including, Cal Poly Pomona, Santa Clara University, Chico State, and Pepperdine.
Farmer also serves as an ambassador to Jessup's OnRamp program that promotes a pathway to success for former foster youth. The primary goal is to build up students' faith, as well as their academic and professional success. "This program is especially dear to my heart since Nicole and I were foster parents before we adopted Oliver and Judah. When I was growing up, I learned the importance of people stepping in to fill the gaps. At the time, we were living in Los Angeles County where approximately 50% of all children in foster care in California reside. The need was so great, we couldn't say no. Our plan was to foster, but one by one, the boys, who are biological brothers, needed a home so we made the decision to adopt."
Raising a family on a college campus may not be a traditional experience for most families, but the couple wouldn't have it any other way. "We're invested. To do my job — and to do it well — I need to be here, fully accessible. I often tell people when it comes to me and my family, what you see is what you get. If one of my kids is having a meltdown, we work through it together. In that same manner, you might see us sharing a laugh or a meal together. It's all just part of life."
Doing life together. Thanks to the Farmer family, that's some solid advice and something Jessup students experience first-hand as they learn by example.