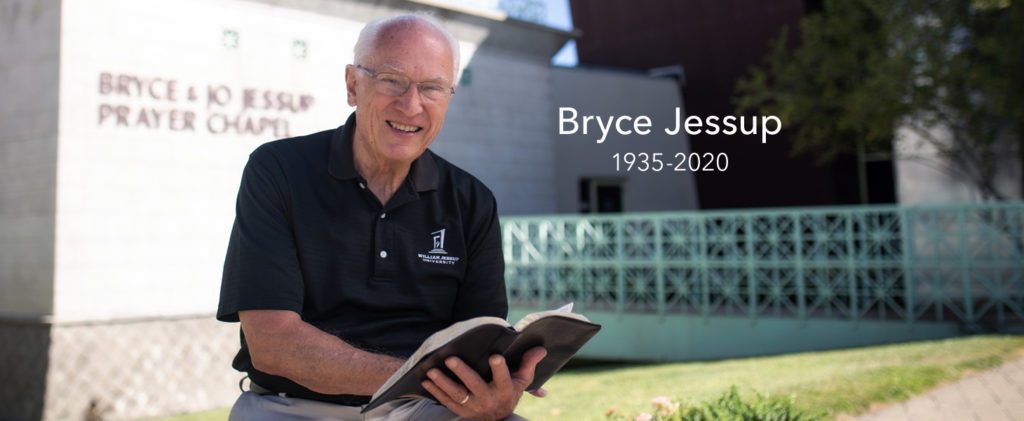 View Bryce's Graduation Celebration
BRYCE AND JO JESSUP ENDOWMENT
Contribute to the Bryce and Jo
Endowment Fund below.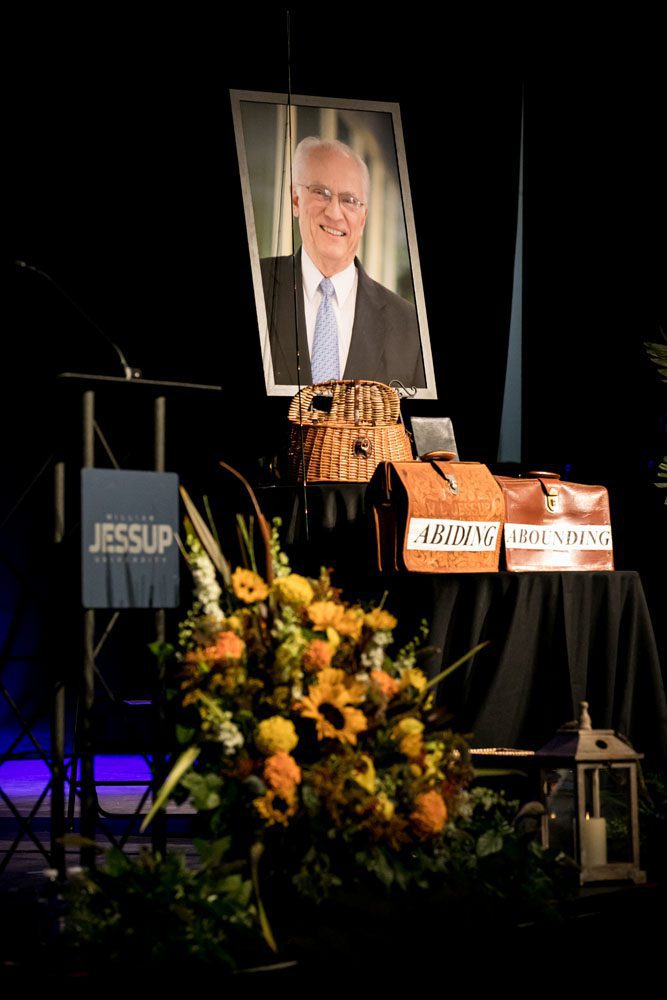 "Bryce Jessup has a legacy stream that runs deep at Jessup, through the churches of Northern California, and in the lives of hundreds of men and women. Bryce was a father figure, mentor and encourager to me personally and to many others. We are honored for Jessup to carry his legacy, the legacy of his father and mother, and the present working of Jesus in Northern California and to the ends of the earth. Bryce is already missed, but his legacy will continue to grow!"
Dr. John Jackson, President William Jessup University
Bryce Jessup, Called Home.
---
On July 30, the Jessup community was saddened to learn that Dr. Bryce Jessup (age 85) peacefully passed away while on a fishing trip in the mountains with his son, Jim. Bryce loved the California mountains and the beauty of God's creation. While he will be missed dearly, we know he is now experiencing perfect and complete beauty in the presence of our Lord. We continue to pray for his precious wife Jo (she and Bryce were married 64 years!) and their children, grandchildren, and great-grandchildren, all of whom are grieving but also celebrating the gift of legacy they received from their beloved husband, father, grandfather, and great-grandfather.
Bryce Jessup was a man of God. All those who knew him would attest to his love for the Lord and his heart for all people. He spent his life training, equipping, and teaching through his roles as a college president, dean, and coach, and in the church as a pastor, speaker, and counselor. Everywhere Bryce served was changed by his heart and hands. While we grieve this loss, we celebrate his extraordinary life and the way God used his story to impact our region and the world.
Dr. Bryce Jessup served as President of William Jessup University (previously San Jose Bible College & San Jose Christian College) for 25 years where he focused on the integration of faith and education. Regional accreditation for the university was achieved under his presidency. He also stabilized the school's enrollment and ultimately moved the university to its permanent home in Rocklin, all without losing sight of Jessup's mission to partner with the church for the glory of God.
Bryce was an influential leader in the Bay Area pastoral community, the Billy Graham Crusade, and ethnic reconciliation groups. Bryce published numerous articles on leadership and church issues, served on many non-profit boards, and was named "Man of Valor" by the Racial Reconciliation Committee of Santa Clara Valley African-Americans in 1999. He was honored with a lifetime achievement award from a gathering of more than 100 regional churches and received recognition from Placer County for the significant contributions he made to their community.
While we mourn his loss on earth, we're praising God for Bryce's Godly leadership, servant's heart, and the love he selflessly demonstrated in his words and actions. When we think of the many lives impacted by Bryce Jessup, we can't help but think, "well done my good and faithful servant."