A Pathway to Success for Former Foster Youth
OnRamp is a dedicated effort that promotes the success of its students through access, vision, support and skills. The collaborative approach across the university's offices ensures each student receives a Christ-centered higher education that is affordable and achievable. Finally, it is a program with the primary goal of building up our students' faith, as well as their academic and professional success.

20% are instantly homeless at 18

25% of Teens are diagnosed with PTSD

50% are unemployed by 24

60% of young men commit a crime

70% of young women are pregnant before 21
They have some significant barriers but they recognize what it will take for them to succeed – 70% WANT to go to college, 10% go to college and only 3% graduate.
At Jessup, we have developed the OnRamp program for foster youth in our region by providing access, vision, support and skills training. We believe Jessup is unique because we are a Christ-centered university who develops students spiritually, academically and professionally. At Jessup, former foster youth students will take part in chapel, spiritual formation groups, and finish with a Bible minor upon graduation. This unique focus provides an encouraging and empowering atmosphere that leads to success and removes financial and academic barriers.
OnRamp Program Pillars to Success
In partnership with many local former foster youth agencies and organizations we have developed a pathway to success. Our focus is to provide a holistic solution for former foster youth student success through Four pillars: Access, Vision, Support, and Skills Training.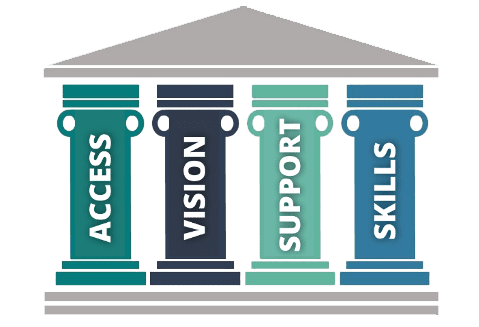 Access: In partnership with local agencies, we have created a nomination process where our partner organizations will nominate former foster youth to Jessup. Additionally, we will provide significant scholarships and dedicated representatives to assist the students in the admission, financial aid and enrollment process.
Vision: Dedicated staff that will provide life skills training and career resource training. Our Foster Youth program coordinators will provide various experiences that will encourage students to believe in themselves and their potential.
Support: Dedicated staff that will do one on one mentoring, have monthly check-ins and program drop ins (someone to believe in, coach).
Skills: Academic Tutoring, Trauma Informed Professors, and Executive Functioning Skills Training.
Giving Options and Impact
OnRamp Scholarship Fund
Your support will be instrumental in this effort by providing tangible and meaningful support to our former foster youth. Scholarship funds go to meet the financial gap of former foster youth students' experience that either mitigate enrollment or cause them to withdraw. Scholarship funds provide direct support to pay for tuition, fees, books, and related educational costs such as laptops and other supplies required to succeed.
Individual scholarships range from $5,000 to $15,000 depending on the individual student's financial aid eligibility and need. We hope to raise $50,000 annually toward scholarships and ultimately $1M towards an endowment for this cause.
Student Scholarship Need Types (Scholarship amounts eliminates the need for debt):
A student with Federal Aid & State Aid: $5,000
A student with Federal Aid (no State Aid): $12,000
A student without Federal and State Aid: $17,000
Year-round Housing
Providing funding for students during ALL breaks during the year. Total cost per student is roughly $2,500. $10,000 would secure housing for all four students without having to take additional loans or pay out of pocket. Housing insecurity and employment is a serious issue for former foster youth. 20% are instantly homeless at 18 and 50% are unemployed by 24. Jessup's OnRamp Program directly addresses these two issues by providing year-round housing, dedicated career and life planning personnel and ultimately a degree that positions former foster youth as exceptionally employable. The total cost for a student at Jessup is currently $12,956 annually.
OnRamp Program Funding
Currently we have a three-year commitment with The Alliance to lead and manage our foster youth program at Jessup. The cost for this program is roughly $20,000 annually to ensure students succeed through our Four pillars: Access, Vision, Support and Skills Training.
Any funding toward program needs would allow for a budget to build greater support systems that would foster greater connection as well as spiritual and academic success.
Support Students Seeking After God
Help us make private Christ-centered higher education possible for foster youth.